PETA is grateful to all those who donate through workplace-giving campaigns and matching-gift programs. Your support helps PETA make significant changes for animals in a variety of crucial ways. Here are just a few from the past year alone:
 Within weeks after PETA Asia's footage of angora farms revealed that workers violently rip the fur from the flesh of screaming rabbits, many of the world's top fashion retailers banned angora permanently, including Calvin Klein, Tommy Hilfiger, H&M, Limited Brands (including Victoria's Secret), Forever 21, Eddie Bauer, Express, QVC, PacSun, Mango, Lands' End, and U.K.-based retail giants Arcadia Group (whose brands include Topshop), ASOS, New Look, Marks & Spencer, and Primark.
In two of our biggest victories this year, PETA scientists helped PETA India convince the Indian government to end the use of animals for testing cosmetics and household products, sparing thousands of animals from being poisoned in painful and deadly tests every year.
As the only animal protection group actively targeting the issue of dehorning, PETA has convinced companies such as Chipotle, Peet's Coffee & Tea, Amy's Kitchen, Dunkin' Donuts, and Baskin-Robbins, to pressure their dairy suppliers to stop this cruel mutilation. This will save countless calves from having their horn buds burned off with no pain relief as they thrash in agony and smoke rises from their seared flesh.
Your support gives us great hope that we will find more ways to make progress for animals every day. For that, you have our thanks.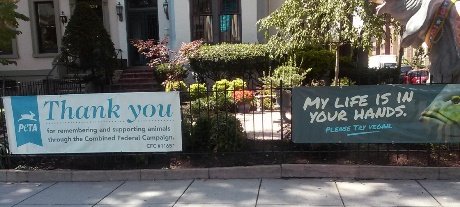 PETA displays a "thank you" banner at it's Washington, D.C. office
Learn more about how you can support PETA through workplace-giving programs!