Chef Tal Ronnen may be most famous for preparing food for Oprah's 21-day vegan cleanse and for catering Ellen DeGeneres' and Portia de Rossi's vegan wedding, but his popular Los Angeles restaurant, Crossroads, is quickly gaining fame in its own right. It's a beautifully appointed restaurant (yes, that's an authentic Toulouse-Lautrec print on the wall) located in a trendy West Hollywood neighborhood serving imaginative, mouthwatering Mediterranean food that just happens to be vegan. Little wonder that everyone from James Caan to Beyoncé is a fan. Crossroads has been open for only two years, but it's already an L.A. fixture. And with its legions of fans clamoring for the recipes for their favorite dishes, Chef Tal has acquiesced to their demands and produced a cookbook that's as elegant and appealing as its namesake restaurant. We caught up with Chef Tal recently to try to wheedle some of his secrets out of him.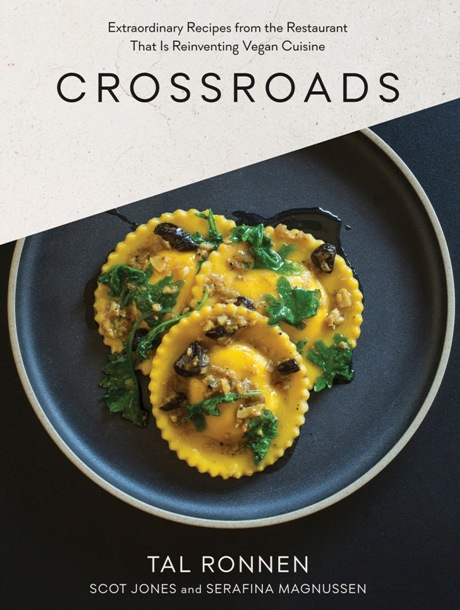 What persuaded you to go vegan?
It took me a long time to go vegan. I was vegetarian for so long—24 years. My dad was lactose intolerant. We'd go visit him in Israel, and he introduced me to a lot of nondairy foods. So I just jumped into it and never looked back.
What is it about Mediterranean cuisine in particular that appeals to you?
It's what I grew up with. I spent the first 8 years of my life in Israel. My father's house there had fig trees, pomegranate trees, almond trees, and loquat trees, so those ingredients were familiar to me. I had a nanny who was Moroccan, so I ate really good Moroccan food. My colleague Scot Jones leans toward northern Italian cuisine, so it's a combination of his background and mine. Also, Mediterranean food lends itself well to a vegan diet. There are no "weird" ingredients. People can eat fresh pasta, salads, pizza, and flatbread with familiar ingredients that don't sound foreign to them.
Your vegan "seafood tower" is the darling of food critics from coast to coast. What was the inspiration for this dish?
I try to create food that people don't think you can have with a vegan lifestyle. I couldn't sleep one night and wrote down a bunch of ideas of how to create vegan "seafood." I called Scot the next morning and said, "I'll meet you in two hours," and we sat down and hammered out the recipes. Two days later, it was on the menu. People went crazy for it—everybody from food writers to everyday guests. One of the key ingredients is Old Bay seasoning. Put that in just about anything and you're halfway there.
Nigella Lawson once said that cooking without meat was like painting without all the colors on the palette. What's your response to people who think that vegan cuisine is "missing" something?
People probably don't realize that so much of what they eat is already inherently vegan or lends itself to being vegan. Actually, a meat-centric diet is not that creative, whereas vegan cooking involves exploring lots of new foods and techniques. Vegan food is so much more colorful than a piece of dead meat on your plate. Color comes from the beautiful herbs, fruits, vegetables, and flowers. So literally and figuratively, vegan food is more colorful.
You cofounded your own brand of vegan cheese, Kite Hill, which you feature in several of the recipes in this book. What sets your cheese apart from the others?
It's made like real cheese. Dairy cheese is made from different milks—goat, sheep, cow, etc. We're just using almond milk instead of milk from an animal, but the technique is the same. We inoculate the milk with enzymes and cultures and age it like dairy cheese. Most of the facility is devoted to aging rooms, which are identical to those at a real cheese-making facility. We make our own almond milk there, too. Most vegan cheeses are oils combined with starch. Starch gives the oil body and mimics the texture of cheese, but it's not made like cheese in any way. The real flavor of cheese comes from culture and aging. Other nut cheeses are aged, but they're soured in a different way. There are no curds, no whey. It's very different from cheese-making and the way we make cheese at Kite Hill. Our guys are experts—for example, our vice president of manufacturing and operations is French and used to work at a goat cheese facility. There's a lot of know-how. It's been a five-year project, and it's expanding. We have a new yogurt that just hit the shelves last week. Our ravioli is just rolling out.
Kale is currently the Cinderella of vegetables. Do you see another "it" vegetable waiting in the wings?
Okra—we've turned people onto okra who previously really hated it. That's mostly because of the way we prepare it. We cut it in half lengthwise and scoop out all the "slime" [seeds and pulp]. That's the part that people don't like. Okra's got such great flavor, and it's so good for you. Toss it in some olive oil and roast it in the oven. It becomes crispy. It's very popular in the Middle East.
Lots of recipes in the book call for homemade pasta. Do you have to have a pasta maker to do that?
Yes, but you can buy a little roller with a hand crank for about $30. It's a big part of what we do at the restaurant. We have a pasta program that rivals any Italian restaurant in town. We make any size, any shape you can imagine. A lot of people come in just for the pasta.
Besides a pasta maker, do you have any must-have kitchen "gadgets"?
The most basic gadget is my hands. When you use your hands, you can really get a feel for the food and how it's coming along. After that, my knife. I always have a pair of tongs or a towel in my hand for handling hot food. Definitely a food processer and a high-speed blender.
Do you have any "secret weapons" in your arsenal—go-to ingredients that make a dish extra special?
We stick to pretty basic ingredients. We do a lot with seaweed. We have a lot of dishes that are seafood-esque, and seaweed is a big part of that. It really imparts a great flavor.
Do you have any dishes that are personal favorites?
That's like asking someone to pick a favorite child! I can say that we have some crowd-pleasers that are always on the menu—and we'd hear about it if they weren't. Artichoke "oysters," pappardelle Bolognese, and cappellacci with spinach cream sauce—those three dishes are always on the menu, no matter the season [and they're also in the cookbook].
Ready to get cooking? Here's a recipe excerpted from the Crossroads cookbook inspired by one of Chef Tal's favorite childhood dishes made by his Moroccan nanny, Sol.
Spicy Moroccan Carrot Salad with Chili and Cumin
Serves 4
1 1/2 pounds small rainbow carrots (about 24), tops trimmed
Marinade
8 dried red chilies, such as guajillo, stems removed
1/2 cup red wine vinegar
3 garlic cloves, coarsely chopped
1 teaspoon ground cumin
1/2 teaspoon kosher salt
1/2 teaspoon freshly ground black pepper
1/2 teaspoon red pepper flakes
1/2 cup extra-virgin olive oil
1/4 cup micro greens, such as Hearts of Fire (see Note)
1/4 cup Rosemary-Fried Almonds (recipe follows) or toasted Marcona almonds, smashed with a mallet or heavy pan
Flaked sea salt, such as Maldon
To prepare the carrots: Bring a large pot of lightly salted water to a boil over high heat. Prepare an ice bath by filling a large bowl halfway with water and adding a tray of ice cubes.
Blanch the carrots in the boiling water until tender when pierced with a knife, about 3 minutes. Drain the carrots and plunge into the ice bath to shock them—i.e., stop the cooking and cool them quickly; this procedure also locks in the carrots' bright color.
Drain the carrots again. You want them to be relatively uniform in size, so if any of them are large, cut them lengthwise in half.
To prepare the marinade: Put a small dry skillet over low heat, add the chilies, and toast for 1 or 2 minutes; shake the pan so they don't scorch. Break up the chilies and put them in a food processor. Pulse the chilies to a coarse powder; you should have about 1/2 cup.
Put the chili powder in a mixing bowl, add the vinegar, garlic, cumin, kosher salt, black pepper, and red pepper flakes, and whisk until blended. While whisking, slowly pour in the oil in a stream until emulsified.
Put the carrots in a mixing bowl and pour in the chili mixture, tossing to coat. Marinate for 1 to 2 hours, tossing periodically.
To serve: Crisscross the carrots on a platter. Scatter the micro greens and almonds on top and season with flaked sea salt.
Note
Hearts on Fire
Hearts on Fire is a variety of micro greens with garnet-colored veins and stems. They not only give stunning color to a dish but also add a vibrant tart, citrusy flavor, reminiscent of sorrel.
Rosemary-Fried Almonds
Makes 2 cups
Popular in Spain, Marcona almonds are softer and sweeter than regular almonds and have a more rounded shape. Their rich, buttery flavor is due to the high oil and moisture content. Store the fried almonds in a sealed container at room temperature for up to 3 days or in the freezer for up to 3 months.
1 cup expeller-pressed canola oil
1 large fresh rosemary sprig, leaves stripped from the stem and coarsely chopped (about 2 tablespoons)
2 cups whole Marcona almonds
1 teaspoon kosher salt
Put a cast-iron or other heavy skillet over medium-high heat. Pour in the oil, add the rosemary, and stir to infuse the flavor into the oil. Heat the oil to around 300°F. (You don't need a thermometer for this: Drop an almond into the oil. When it sinks a bit, then floats right back to the top and starts sizzling, the oil is hot enough.) Once the oil is ready to go, add half of the almonds and cook, stirring constantly, until they are fragrant and toasted, 10 to 20 seconds. Using a slotted spoon, remove the almonds from the oil and drain on paper towels. Sprinkle them with the salt while they are hot. Repeat with the remaining almonds. Use to top the marinated olives or serve as a snack.
Excerpted from Crossroads by Tal Ronnen with Scot Jones. (Artisan Books). Copyright © 2015. Photographs by Lisa Romerein.
Coming up: Enter to win a copy of the new 'Crossroads' cookbook