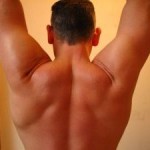 Whether it's an in-your-face insult or a sly sideways remark, any guy who has been vegan for a while has heard it—the implication that he's not a "real man" because he doesn't eat meat.
Huh? I'm vegan, I'm pretty sure I'm real, and my doctor can testify that I'm a man.
Why some people believe, despite all evidence to the contrary, …
Continue reading "Man Up, Meatheads! Why 'Real Men' Eat Vegan"