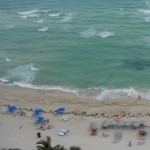 Bicycling north of Miami's beaches, I found a bit of paradise in an unlikely place. With a row of modern white skyscrapers girding its shoreline, Sunny Isles Beach offers an array of amusements, along with a welcoming attitude toward vegans and vacationers who travel with companion animals.
The compact barrier island just north of Miami …
Continue reading "Pocket Paradise North of Miami"