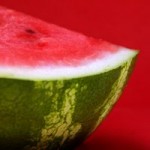 Concerned about osteoporosis? You may want to dump the dairy in favor of watermelons, tomatoes, and red grapefruits.
Recent research suggests that lycopene, the bright-red carotenoid that gives those fruits their luscious hue, may prevent bone loss. A study done on 23 healthy postmenopausal women between ages 50 and 60 found that a lycopene-restricted diet resulted in greater …
Continue reading "Watermelon: Good to the Bone"