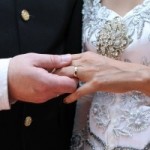 Remember that classic U2 song "Two Hearts Eat as One"? Wait, what? It's not "eat"? Well, maybe it should be!
The world's longest-married couple, 107-year-old Karam Chand and his 100-year-old wife, Katari, have lived in wedded bliss for 87 years. And we don't think it's any coincidence that the long-lived lovebirds are both vegetarian. Healthy hearts stay …
Continue reading "A Recipe for Romance"