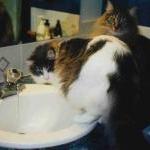 I wonder how many other PETA Primers share their homes with cats who are water crazy? If you do, you know exactly what I mean by "water crazy."
Some water-crazy cats park themselves at one particular sink and stay there for hours, crying for someone, anyone, to come and turn on the …
Continue reading "Quirky Cats: It Must Be Something in Their Water"