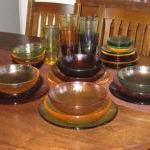 Wikipedia defines bone china as "a type of porcelain body first developed in Britain in which calcined cattle bone (bone ash) is a major constituent."
That certainly doesn't sound like something I want to serve my delicious vegan meals on!
As an ethical vegan first and an environmentalist second, I try …
Continue reading "Fire and Light: Environment- and Animal-Friendly Dishware"