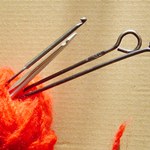 What do you get when you cross a love for animals with a love for knitting? Cruelty-free crafting, of course! By cruelty-free, I mean using other great materials besides wool.
It's not something you want to think about when you sit down to work on your latest knitting project, but unfortunately, sheep raised for wool are subjected to several cruel and …
Continue reading "A Stitch in Time Saves Nine (Sheep!)"