PC for 'Pets'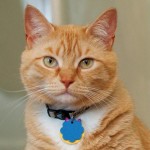 Oops! Excuse me—companion animals. Words can be weapons. The words we choose and how we use them underline or undermine our arguments for the rights of animals.
Never say "it" when referring to an animal. Always use "his" or "her," even if you aren't sure of gender. After all, you can't always lift up the tail. Besides, "it" is so demeaning—to both genders.
Those of you who are most likely to read this blog will already regard animals as the persons they are, so let's always refer to them as "persons." That may take some getting used to, and it does stretch the casual definition, but we are trying to challenge speciesist notions, right?
Currently, there is no worldwide agreed-upon definition of a "person" among etymologists, the specialists who study the history of words and their meanings (even if most people don't seem to pay any heed). The closest that etymologists have come to agreeing on the required condition for being a "person" is simply that a person must be a "being."
If any fusty old-school grammarians (and they don't come much older school—or older—than me) argue that only humans can be "persons," remind them that the arbiters of both concept and word have yet to render a final judgment. In fact, the debate about which qualities determine whether "somebody" is a person has been going on for at least a couple of millennia. But right off the bat, we've scored a point: After all, all beings have some "body."
If enough of us use words such as "person," "her," "him," and "somebody" when referring to animals, that usage will migrate into popular language and slowly reorient thinking.
People who hold fast to received opinions without examining their inherited moral stance (read: "traditional values," the customary excuse for segregation and subjugation) sometimes accuse animal advocates of engaging in anthropomorphism—that is, attributing human qualities, traits, and behavior to nonhuman animals. Use no word less dismissive than "Nonsense!" to respond to that specious argument.
As more humans accept their kinship with nonhuman animals, they will recognize that societies, businesses, and governments throughout the world have cynical and self-serving reasons for denying and forestalling the recognition of animal rights. As long as animals are regarded as "property" (as women and children once were and still are in some lands) and nonhuman animals are not recognized morally and legally as "persons," they will remain tools—for food, clothing, transportation, medical and military experimentation, entertainment, etc.
This is still a world of slavery. Enslavement is an ancient practice and has never been restricted to a single species. This evil must be confronted and rejected in all its manifestations. Not only does "it" need to be replaced by "her" or "his"—"they" also needs to be replaced by "us."
Posted by long-time PETA member and show business historian and author Frank Cullen.