Vegan-Friendly Retirement Spots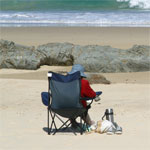 When I moved to Sarasota, Florida, about six years ago, I figured that I was getting a jump on retirement. In addition to being warm and sunny, the area offers a variety of vegan-friendly restaurants and plenty of fun and relaxing activities for people of all ages.
Although Sarasota is practically paradise and therefore a popular retirement and vacation destination, it's not the only vegan-friendly spot for retirees. In fact, according to ABC News, Tennessee tops the list of the 10 best states for retirees.
I can't say that I've ever even thought of retiring to the Volunteer State, but the cost of living there is quite low, and there are a lot of exciting places to see, including Earth- and animal-friendly Chattanooga; Nashville, the country-music capital, which is perfect for vegetarians and music lovers alike; and Cumberland Plateau, central Tennessee's expanse of underground caves.
Louisiana, which holds the second spot on ABC's list, offers balmy temperatures as well as the fourth-lowest tax burden in the nation and is also home to more than 80 vegetarian-friendly restaurants and stores, many of which are in New Orleans—for those of you who like Cajun-style fare, along with plenty of soul and jazz.
South Dakota, ranked third on ABC's list, was a bit of a surprise to me, but apparently it has the lowest crime rate in the country in addition to a low tax burden. And Sioux Falls is full of intriguing sculptures and scrumptious vegan food.
Kentucky is fourth on the list, despite being the hometown of KFC. Louisville actually has an "edgy veggie Bardstown scene," and Lexington is a good place to go for an array of farmer's markets and lots of sightseeing options. The Bluegrass State also has a very affordable cost of living, warmer-than-average temperatures, and a lower-than-average crime rate.
Rounding out the top five is Mississippi, which also has a warmer-than-average climate, a low tax burden, and a lower-than-average cost of living as well as various vegan-friendly restaurants and stores.
Check back in coming weeks for a follow-up blog post offering a vegan perspective on the rest of the list and other vegan-friendly places for retirees and tourists.