Nothing Gets Past Karen Porreca: Editor, Activist, and Augustus Club Member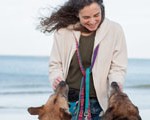 PETA's Augustus Club is a complimentary club honoring those who are leaving a legacy to animals through a planned gift to PETA. Members receive quarterly newsletters and invitations to special events throughout the year. Karen Porreca is not only an Augustus Club member but also one of PETA's most longstanding staff members.
Because Karen is a veritable living archive of PETA history, we thought Augustus Club members like you, who have made a lifetime gift in support of our mission, might enjoy hearing her perspective on how PETA has evolved over the years.
We hope you enjoy the following interview with Karen, who has this message for her fellow Augustus Club members: "I feel so fortunate to have spent almost my entire working life in the service of animal rights, and I am so grateful for the generous PETA supporters who have made this work possible."
When did you start working at PETA?  
I started working for PETA in 1986. The organization was only 6 years old at the time. I had moved to Germany with my then-husband, Harald Ullmann. We saw PETA's employment ad in The Animals' Agenda, and we both flew back to the U.S. for a two-week working interview.
At the time, PETA was holding a months-long vigil at the National Institutes of Health (NIH) to put pressure on it to release the "Silver Spring monkeys" to a sanctuary. The monkeys were from a laboratory that had been shut down following PETA's very first undercover investigation. My job interview with Ingrid took place while we sat outside on the curb in front of the NIH campus.
Harald and I were both hired. Little did we know that I would still be at PETA 28 years later and that he would eventually go on to his current position as vice president of PETA Germany.
Describe your first job at PETA.
We worked out of a small warehouse in Kensington, Md. There were 28 employees. I worked in the mailroom with two others. We filled merchandise and literature orders and answered correspondence. Back then, we actually wrote most of our letters by hand!
You eventually developed PETA's library, which became the world's largest animal rights library. How did that evolve?
After a year in the mailroom, I moved into what was then called the Research & Investigations Department. I organized all our research resources—periodicals, books, and articles—into a system, and that became our library. After a year or two, the library became its own department, and I was in charge of it. Around that time, I also started editing/proofreading our written materials.
For the next 20 years, the library was in its heyday. This was before the Internet, so almost every department at PETA relied on the library as an important resource, and we also got many outside requests for information from the media, students, activists, members, and others.
Then with the advent of the Internet and Amazon, information became accessible online and specialized, hard-to-find books became more readily available. The need for a physical library diminished, so we eventually closed it in order to use the space for other expanding departments.
I am now senior director of editing and foreign languages. My department proofreads and edits all the published content of PETA and most of our international affiliates—Web copy as well as hard-copy publications, such as literature, annual reports, newsletters, membership mailings, and much more.
In your time at PETA, which accomplishments have been among the most gratifying?
I was a foreign-language major in college, so it's very gratifying for me to be able to use my language skills to edit materials in other languages. The opportunity arises frequently because our activities have become so international. I also edit the websites and other materials for PETA France and PETA Netherlands. I'm even beginning to learn Chinese, now that PETA Asia is growing so rapidly and its Chinese Web content is expanding.
I'm also proud of having created a consistent PETA editing style. The high quality of our written materials has helped establish PETA's reputation as a professional, credible, and knowledgeable organization.
There was also one year during which I wrote "KP's Dog Blog" for PETA, and as a person who has lived with many dogs over the years and who has always sought out holistic health care and humane training techniques, I thoroughly enjoyed pouring all my knowledge and experience of dogs into it. I was very proud to be able to offer people information on treating dogs humanely, holistically, and with respect for their rights.
In your opinion, what makes PETA more effective than other social-change organizations?
Our fearlessness (which comes from the top, from Ingrid) and our willingness to tackle topics that no one else wants to take on—topics such as pigeon racing; crustacean slaughterhouses, in which lobsters and crabs are torn limb from limb; the painful dehorning of cows used in the dairy industry; angora production, which involves tearing the fur off the bodies of live rabbits; and much more. Most people hadn't even thought of these things before PETA exposed them. And we are also not afraid to take unpopular positions or to defend unpopular animals. We try to do what's in animals' best interests at all times without worrying about our own popularity.
Also, we have a very high standard of work ethic (which is also set by Ingrid). If you're a slacker, you don't belong at PETA.
And there are many other factors: our reliance on humor, our unparalleled talent for attracting attention to an issue, our forward-looking ability to capitalize on new forms of technology such as social media, and our knack for riding the wave of pop culture to get people talking about animal issues. For example, when we did a twist on the "got milk?" slogan with our "got beer?" campaign, the media pick-up was huge, and that was the very first time that the dairy industry's abuse of animals had become the focus of national media attention.
Coworkers cite you as an example of someone who is never silent when it comes to advocating for animals. Can you describe some situations for our readers that might help them speak out for animals?
When I'm out walking my dogs on the beach, I sometimes see people doing things that harm their dogs. I always say something, but the trick is to be diplomatic. For example, if I see a dog wearing a shock collar, I might strike up a conversation with the dog's guardian and then, after a minute or two, ask, "So tell me, why would a nice person like you put a shock collar on your dog?" The answer is usually that without the collar, the dog won't come when called. So I explain that shock collars cause not just a temporary moment of pain but also a constant state of anxiety in the dog, who never knows when another shock is coming. Then, right there in front of the guardian, I train the dog to come when called.
How do you do that?
When I'm at the beach with my dogs, I always have a pouch of treats with me. So I feed the person's dog a couple of treats (with permission, of course). Then after the dog runs off, I call the dog, and the dog always comes right back to me. People often seem amazed by this and say, "But he never comes when I call him." I ask, "Do you carry treats with you?" They say no. And I say, "Well, that's all it takes! No electric shocks needed―just a pocketful of whatever kind of treat your dog loves the most."
And do people take your advice?
I'm happy to say that they often do—I've seen some of those same people at the beach and their dogs are no longer wearing those awful collars.
Sometimes the prospect of speaking up in those situations can be daunting. What keeps you motivated?
I ask myself, "If I don't speak out, who will?" This might be the dog's one and only chance for relief. Also, I know from personal experience that even just a single brief comment from a passerby can create real change. For example, a few years ago when my dogs Sunny and Dexter were younger, Sunny would occasionally tackle Dexter at the beach—really roll him―and Dexter would just kind of put up with it because he adored her. I didn't intervene because at that time, I viewed it as something that they would work out on their own. But a woman walked by one day and saw what Sunny did and called out to me, "Why are you letting your dog do that? Make her stop!" That really woke me up. From then on, I started intervening, and soon the tackling behavior completely stopped, so I'm really grateful to that woman for showing me a different way.
You're an Augustus Club member. What made you decide to include PETA in your estate plans?
Yes, I have left my house to PETA in my will. I have seen firsthand how many victories for animals have been made possible through the support of our Augustus Club members, so I'm proud to be one of them. (I'm also a Vanguard Society member, by the way.) It makes me happy to know that my estate will strengthen PETA's work after I'm gone.