Prime Inspirations: Meet PETA's Hero to Animals
If you've ever doubted that one person can make a difference, you haven't met longtime PETA member Claudine Erlandson. When PETA President Ingrid E. Newkirk visited Seattle recently on her nationwide Naked Truth speaking tour, she took a few moments to honor Claudine with PETA's Hero to Animals Award.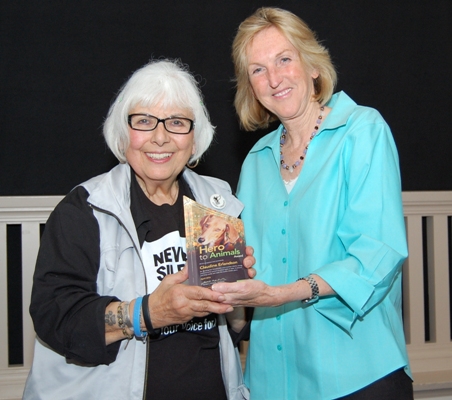 So what makes Claudine an animal rights superstar?
Claudine joined PETA 26 years ago and quickly became one of our most dedicated supporters. She's a regular at PETA's anti-Ringling demonstrations, and she does demonstrations on her own outside KFC and McDonald's every single week as part of PETA's campaign to get these companies to stop scalding chickens to death.
Claudine never misses an opportunity to speak up for animals by writing letters to the editor and posting online comments. She also meets regularly with the committee that oversees animal experiments at the University of Washington to plead the animals' case. She's a generous member of our Vanguard Society and our Augustus Club, and she has donated proceeds from garage sales, her former thrift store, and even the sale of property on eBay to strengthen PETA's programs. She also keeps us stocked up on handmade catnip balls for our gift bags and rescue cats.
As if all that didn't show Claudine's commitment, she even has a PETA tattoo on her arm!
Ingrid also presented Simulab, makers of the TraumaMan human simulator, with PETA's Compassionate Business Award. Hundreds of medical centers around the world offer a course called Advanced Trauma Life Support (ATLS) to teach doctors how to respond to traumatic injuries. Virtually all ATLS facilities in Canada and the U.S. use human simulators, but in many countries, students are still forced to cut into live dogs, goats, pigs, or sheep. The biggest barrier to using simulators is the cost.
Simulab generously gave PETA an unprecedented discount, allowing us to donate 64 TraumaMan simulators to ATLS programs in Bolivia, Costa Rica, Egypt, Iran, Jordan, Mexico, Mongolia, Panama, and Trinidad and Tobago, which will save thousands of animals each year as well as helping thousands of doctors around the world receive their training on the most modern and effective tools available.
Now it's your turn! Post a comment letting us know how you help animals. Whether it's spreading the word by wearing an animal rights tee or treating a meat-eating friend to a vegan meal, no action is too small. Who knows? Your story could motivate other Prime readers to become a hero for animals, too!