In today's highly mobile society, it's not uncommon for people to move frequently from one city to another. And although there is plenty of help out there in the form of moving companies and other businesses that can minimize headaches and offer affordable prices, for some, the task of moving can still seem daunting when animal companions are involved. All too often, people don't take the time to look at all the options and simply leave their animals behind. It doesn't have to be that way. If people will take a little time to consider the possibilities, they can certainly come up with one or two creative ways of doing things.
The other day, during a lunch conversation with the PETA Foundation's Scott Anderson, I mentioned that I have moved three times and never left my animals behind. Scott recommended that I share my story with Prime readers so that others can benefit from it.
My first move was in 1989, from Dallas, Texas, to Chapel Hill, North Carolina, with eight cats and two dogs. I rented a mini-bus from a local agency that required that the bus be returned to its original location. I asked the agency to remove all the seats except the front two and to keep them at its facility. I then borrowed four large cages from a local humane society. With two cats per cage stacked neatly in the bus, leaving plenty of room for the two dogs to move around in, my friend Gary and I took off on a three-day journey for Chapel Hill. We took turns driving and spent nights at pet-friendly motels, where we also took turns—in this case, spending half the night in the room with the dogs and the other half in the bus with the cats. We made it safely to our destination, and Gary drove back to Dallas, where he returned the bus and the cages.
In 1992, my second move was to Austin, Texas. This time, I moved my animals by air. I had only one dog, as my older one had died of old age, as well as my cats. I purchased carriers for each animal that met the air-transportation code, and I arranged with a local kennel in Austin to pick up my animals from the Austin airport while I drove my Toyota (which took three days). Even though moving by air took only a few hours for my animals, rather than a few days, I believe that it was more stressful for them because of all the strange sights and sounds and the stay in the kennel—not to mention that I wasn't around to comfort them.
My third move, to San José, California, was in 1996. This time, I purchased a 1996 Ford Aerostar to bring my cats and one dog. As during my first trip, I had the seats removed (except for the front two) and had a moving company transport them, along with my other belongings, to San José. This time, I purchased large kennel-type cages. With two cats per cage neatly stacked in the van and plenty of room for my dog to move around in, my nephew Saeed and I embarked on a three-day journey and employed the same logistics as during the first trip.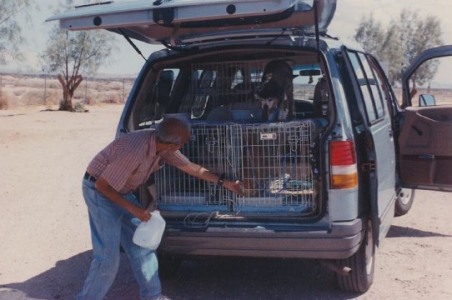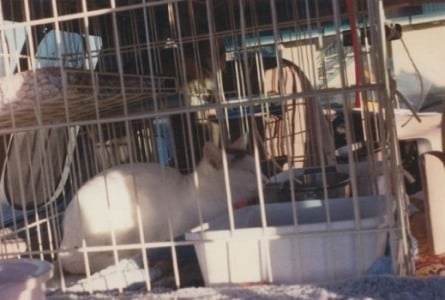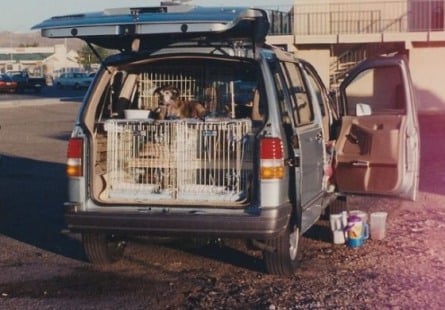 The message I have for readers is this: Don't leave your animals behind! You can always find a way, no matter how overwhelming the task may appear.
By PETA founding member Syed Rizvi, whose compassion, activism and work to help animals inspires us all.