Signed Book Contest! From Fighting Fires to Fighting Bad Eating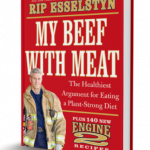 As the daughter of a retired firefighter, I am excited that firefighter-turned–health activist and food writer Rip Esselstyn has come out with a follow-up to his bestselling The Engine 2 Diet called My Beef With Meat.
Esselstyn advocates a "plant-strong" eating plan powered by grains, fresh fruits, vegetables, legumes, nuts, and seeds. The book is filled with delicious recipes and practical advice about how—and why—to transition to eating food that is healthy and whole. The nutritionist and professional athlete is partnering with Whole Foods to promote a "28 Day Healthy Eating Challenge." Whole Foods has team members and diet consultants who help guide people.
Esselstyn's books have been so well received that he retired from the fire department, and as he puts it, he's gone from "pulling people away from fires to pulling people away from unhealthy food." In other words: He's still saving lives.
PETA has scored two signed copies of My Beef With Meat. Tell us what "plant strong" means to you for a chance to win one. Two entries will be selected by a panel of PETA judges based on their creativity. Please tell us by posting a comment with your reply by March 7! By commenting, you're acknowledging that you've read and you agree to the terms of our privacy policy  and contest terms and conditions.