Cloris Leachman Raises Hope for SeaWorld Orcas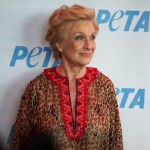 Horses used to whinny at the sound of her character's name in Young Frankenstein, but these days, Cloris Leachman's name is more likely to elicit supportive clicks and whistles from orca whales. That's because the Raising Hope star has written to the president of the Tournament of Roses Association and urged him to yank SeaWorld's float from the Rose Parade.
"I hate to rain on this parade, but I was disappointed to learn from my friends at PETA that SeaWorld will have a float this year. Perhaps the Tournament of Roses Association has not seen Blackfish? The highly acclaimed documentary gives us a look beyond SeaWorld's glossy ads at the painful lives of orcas who were captured and bred for the park."
Leachman says she was proud to be the grand marshal of the 2008 Tournament of Roses—an event that she jokes is "older than I am"—but there's no way she'll go anywhere near this year's parade as long as it includes a SeaWorld float.
"Many orcas at SeaWorld have been confined for decades to tanks that, to them, amount to nothing more than glorified bathtubs. They have been deprived of everything that is natural and important to them and are forced to swim in endless circles, far away from their families," she writes. "It's no wonder that orcas at SeaWorld have never lived long enough to die of old age. (And as someone who has lived a long, eventful life, I can vouch for the fact that they're missing out.)"
Leachman joins PETA in urging the Tournament of Roses not to let SeaWorld "use the Rose Parade as a PR ploy."