Madison: Fresh, Local Vegan Food by the Lakes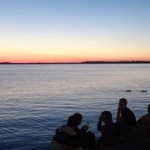 Vegan meals, sweets, beer, and wine—Madison may be the capital of the dairy state, but it makes a super getaway for vegans. Just hold the cheese.
Nestled on an isthmus between two beautiful lakes, this Wisconsin city raises the bar for music in all kinds of genres as well as for urban and rural activities and cuisine that uses fresh, seasonal, and regional ingredients. I even saw a big red billboard in town announcing Madison Vegan's new online restaurant guide.
The billboard was posted by Alliance for Animals and the Environment, which also organizes a weekly dining e-newsletter, citywide vegan chili cook-offs, and the Mad City Vegan Fest,  at which thousands of vegans and supporters party each June.
Clearly, Madisonians know how to have fun. They have hundreds of miles of excellent bike-hike trails that pass community gardens as well as outdoor artwork, museums, eateries, pubs, and lakes.
Outstanding local bands play around town, too, and during warmer months, free music and cultural performances can be found nearly every day in parks and other venues such as Monona Terrace, the Frank Lloyd Wright–inspired community and convention center. It seems almost like there's always a festival happening somewhere in town.
To sate your appetite, here are some of the best bites: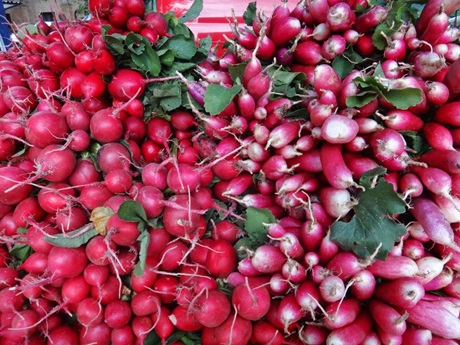 • The Dane County Farmers' Market boasts a couple hundred booths wrapping around Capitol Square, creating a must-visit wonderland for foodies. It's the place to be Saturday morning, and be sure to make time afterward to take a tour of the gorgeous state capitol building.
• Ladonia Cafe is a new 100 percent vegan food cart located at the university's Library Mall from Wednesday through Friday and on Capitol Square on Saturdays during the farmers' market. Amie Swanson's BLT features sweet-savory homemade tempeh with market-fresh lettuce and tomato on locally made Batch Bakehouse bread with a side of potato home fries. Equally delicious are the corn and red-pepper tamales with slow-cooked pinto beans and organic brown rice. Pair them with a cup of fresh ginger limeade.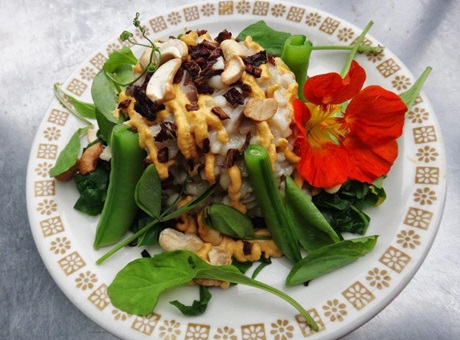 • The Green Owl Cafe serves vegan versions of traditional comfort foods, including such tasty choices as schnitzel, jambalaya, and a jackfruit barbecue sandwich topped with crunchy slaw. For a splurge, go for one of the fruit-infused cocktails. Be sure to order at least one of the fabulous homemade desserts. All are vegan, including the wicked-good mint vegan cheesecake.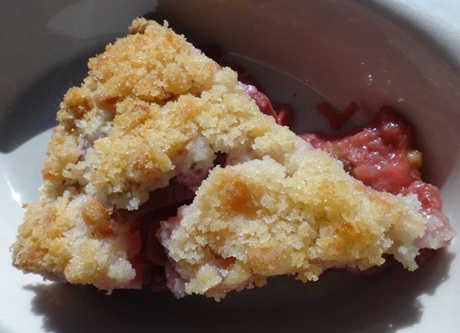 • Monty's Blue Plate Diner serves a filling Heathen Vegan Shoplifter's Delight tempeh sandwich and fresh-baked seasonal vegan pies. (I particularly liked the strawberry-rhubarb.)
• Tex Tubb's Taco Palace serves nachos with Teese vegan sauce and piquant peppers as well as a zesty vegetable tostada.
• Mother Fool's Coffeehouse is all about local, fair-trade, and vegan food. Great choices include the coffee, kombucha, house-made groundnut stew, and decadent treats—such as raw, gluten-free, sugar-free Paradox confections.
• The Weary Traveler Freehouse offers several plant-based hits such as The Ramblin' Vegan's Chili served with delicious house-baked cornbread.
• Himal Chuli Restaurant serves well-presented, delicious Nepalese fare. I loved the black-eye pea salad, mung bean–cilantro stew, and beautifully seasoned dal.
• Looking for vegan pizza? Ian's serves a vegan mac 'n' cheese pie, Glass Nickel Pizza Co. has a hummus pie, and musician Lyndsay Evans recommends The Roman Candle Pizzeria's Vegan Destroyer.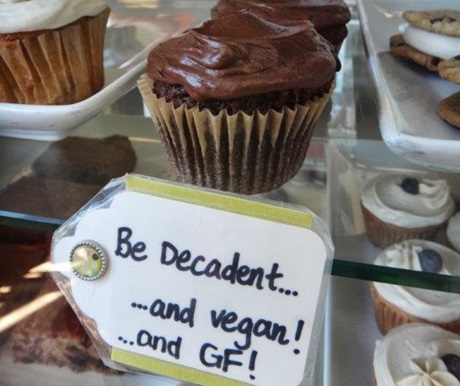 • Have a sweet tooth? Don't miss the carrot-mango dairy-free scoop at Chocolate Shoppe Ice Cream.  It's also worth wandering five miles west to the quaint town of Middleton to visit Bloom Bake Shop, which makes exquisite blueberry cupcakes and other vegan treats and also obtains all ingredients locally. Just steps away, you can cool off with a dairy-free lime sorbet at Villa Dolce.
• Like beer and wine? Local breweries that offer vegan-friendly choices include Capital Brewery,  Ale Asylum, and New Glarus Brewing Co. Vegan-friendly wines abound at Wollersheim Winery and Botham Vineyards.
• Want to have a picnic by the lake? You'll find plenty of vegan-friendly food at Willy Street Co-op.
Madison's lakeside pleasures warrant a weekend getaway. The Dahlmann Campus Inn is a nice, friendly, and affordable place to stay. Other lodging choices and an events calendar appear at VisitMadison.com. For more great vegan-friendly places to eat and drink, check out the Madison Vegan dining guide.
All images ©Robin Tierney.