Helping Some Animals While Eating Others?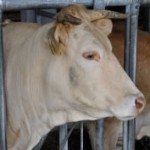 Your local animal shelter or favorite rescue group does a fantastic job helping cats and dogs. You want to offer your full support. Then you are invited to the big annual fundraiser. This is usually a food-centered event such as a dinner or a barbecue—and it all too often features meat. Then you find out that there might be a single vegetarian offering—but, of course, not a vegan one.
For example, while I was writing this, I got an e-mail from a wonderful animal rescue group announcing an upcoming barbecue featuring "pit, ham & turkey, hamburgers, hot dogs, shredded beef BBQ, sides & more." Now, think about this for a minute. They are supposed to be helping animals!
It is inconsistent and hypocritical for animal shelters and rescue groups to raise funds to help some animals by serving other animals as food. The cruelty, confinement, and inhumane treatment of animals who are used for food—including  for eggs and dairy products—is appalling and unnecessary. Do these organizations really want to embrace and endorse the cruelty of the factory-farming industry? Doing so sends a conflicted message to the community and weakens the organization's ability to express genuine outrage against cruelty to animals. Consuming animal-derived foods is much like buying a dog who came from a puppy mill: It supports the cycle of needless cruelty and suffering of innocent animals.
For those who are opposed to cruelty to all animals, it is difficult to support an organization that participates in cruelty to any animals. For example, one would not want to contribute to a farmed-animal rescue organization that raises funds by selling puppies from puppy mills—or worse, serves them as meat at its annual gala dinner. After all, cows, chickens and pigs who are raised on factory farms are just as intelligent and capable of experiencing pain as are dogs who are raised in puppy mills, aren't they?
This creates a real conflict for those who want to contribute to an organization yet do not want to compromise their ethical principles. The conflict not only limits the group's potential for continued and generous giving but also affects an important source of funding from bequests-funding that is often essential for the continued operation of the organization.
Animal shelters and rescue groups should set an example and educate the community on this issue by adopting organizational policies establishing that all events will be humane by serving vegan food only. Imagine the consistency of an animal shelter or rescue group fundraising event that could be billed as a truly cruelty-free event.
The solution is not as simple as it seems. Unfortunately, most people and organizations cannot connect the dots between compassion for some animals and compassion for all animals. We need to educate the folks in these organizations, and it isn't easy. Nothing gets people more defensive than pointing out the obvious.
Some Primers have found that working to support an animal shelter's mission by volunteering establishes relationships that provide for nonconfrontational conversations that can bring about change. Of course, to make such an action effective, one must truly commit to the volunteer job and not simply take it as an opportunity to convince people to go vegan.
But here's the dilemma: Should you or should you not continue to support an organization that engages in cruelty to some animals in order to help other animals? I know where I stand, but what's your take?