Sir Francis and I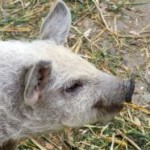 I found the tiny black piglet during my first summer home from college. We formed an instant bond—one that I feared would be broken when we separated for my return to school in the fall. At semester's end, I anxiously pulled in the driveway of the farm where I'd boarded him for the winter. As I stood on the lawn, watching him play with his new little pig friends, I feared that he wouldn't remember me and wouldn't want to come home. But I hadn't been there for more than a minute when he began to snort, getting louder as he closed the gap between us. He skidded into me like a baseball player and nuzzled at my calves. Finally, he flopped down, smiling at my feet, awaiting a belly rub.
Whenever we're reunited, even if we've been apart for less than an hour, he makes a wonderful range of sounds, as if recounting the events that occurred in my absence. This time, with many long months between us, he had a lot to say. He chattered the whole way home.
He is named Sir Francis Bacon. He sits to receive his meals. He twirls with delight. He answers with variable interest when called and can differentiate between his toys when asked to do so. This is not because I am a particularly good animal trainer—my dogs look at me with indifference even when treats are dangled before them. Rather, I believe his responsiveness stems from our mutual respect. Sir Francis, like other pigs, displays emotional insight and a level of cognition that places his species fourth among mammals in terms of intelligence .
Recent studies show that pigs are more intelligent than 3-year-old children, recognize themselves in mirrors, and can play—and win—video games. This intelligence contributes to their keen sensitivity. One study concluded that pigs experience a lack of optimism, definitive hopelessness, and crushing depression when housed in an oppressive environment. They are fully aware of their surroundings, of their bloody raison d'être, from the factory-farm cage to the killing floor.
As much as the public needs to be aware of the horrific inner workings of factory farms, they also need to be enlightened about the remarkable nature of the animals who are slaughtered in massive numbers every day in the name of such "noble" ends as sandwiches. It's hard to eat someone you've seen smile. And it's even more difficult when you know your dinner experienced grief in the face of loss, had the ability to pull blankets over himself or herself on a cold night, and, just like you, enjoyed a shower in the heat of summer.
Why then would I make such a tasteless pun? Why would I name him partly after the fate he was spared? I called my pig Sir Francis Bacon after the statesman and philosopher to highlight their kinship. He's no more "bacon" than his namesake. I'd never eat a brilliant philosopher, and I'd never eat my best friend.
Danielle Aykroyd is an artist and actor based in New York City. She is a recent graduate of Harvard University.