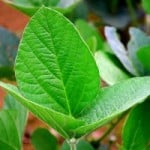 One of my best friends is a breast cancer survivor. She went vegan after her mastectomy two decades ago and now eats plenty of fruits, vegetables, beans, nuts, whole grains, and soy foods, including tofu, tempeh, miso, edamame, soy milk, and veggie burgers. Study after study has shown that soy foods are beneficial for women, including breast cancer survivors, and now the American Cancer Society (ACS) has released a statement saying that soy foods can reduce your risk of breast cancer.
This latest news should further reassure women that soy is a healthful food that can be enjoyed instead of meat, eggs, and dairy products. According to the ACS statement, experiments on animals in laboratories have contributed to a lot of undue worry among women, even making some of them too scared to eat soy. But more reliable epidemiological studies (which focus on large samples of women, instead of terrified animals in cages) have shown either no correlation between soy and breast cancer or a "protective association," meaning that women who ate more soy had less likelihood of breast cancer.
The ACS has concluded that soy foods are "safe for both breast cancer survivors and the general population, and may even lower breast cancer risk." The ACS' strategic director of nutritional epidemiology even encourages women to enjoy an occasional tofu stir-fry or tofu burger, saying that they're "some of the healthier foods you can eat."
How true. Soy foods are cholesterol-free, low in saturated fat, and packed with protein and essential amino acids. They also contain healthy fiber and complex carbohydrates. And unlike meat, eggs, and dairy products, which are known to cause a variety of health problems, soy foods have also been shown to help protect against cardiovascular problems, prostate and colon cancer, strokes, diabetes, and possibly even Alzheimer's disease.
Research also shows that menopausal women who eat soy may have fewer hot flashes and that soy consumption can protect against osteoporosis. A study from Clinical & Experimental Allergy suggests that the antioxidants in soy may also benefit asthma sufferers.
And soy foods are not only good for us—they're great-tasting and versatile, too. Soy products can be used in everything from stir fries and smoothies to cheeseburgers and cheesecakes. Although a healthy diet should consist of a variety of vegan foods, it's fine—wise, even—to enjoy some soy foods on a regular basis. Why not try Herb-Marinated Tofu Skewers With Baby Spinach and Blood Orange Salad or Sweet-and-Sour Tofu With Vegetables for starters?