Remembering Viva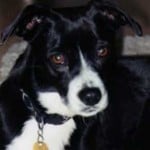 A longtime PETA friend recently contacted us with her story of an adopted shelter dog who added so much to the lives of those around her. We were so moved that we wanted to share her reminiscences with our PETA Prime readers.
I watch Viva stumbling along in the alley, each step now treacherous for her. Once, she danced with her Italian greyhound prance over every obstacle like a dainty ballerina and jumped over puddles with deer-like grace. Now she trudges through them like an ox, determined and resolute.
When I finally took her home after visiting her 11 times at the animal shelter, some of my friends wondered about my sanity. I wasn't so sure about my choice either, but I figured time would tell if I was up to this challenge. Viva's hyper-nervous energy led her to be easily spooked, and kids just made the situation worse. She was a fear biter, something I didn't really know until six of my friends had been nipped in her first week home. I was the fourth person who had adopted her even though she was little more than a year old, as it seemed nobody could deal with her knotted-up neurosis. That neurosis extended to her eating habits, in which she devoured her food without chewing, vomited it all out as a result, and then ate it again. She would also bolt blindly into space after hearing the sound of metal, and sudden movements could send her into orbit. But despite her many quirks, there was something about her that I understood. Time with her later unmasked an extremely smart, fun, and highly individual dog.
I watch her dig her nose in some delicious scent and take her time to decipher the message. She finally pulls her nose away, turns in a few circles around the spot, and then digs her nose into the same spot again to catch that divine whiff, remaining glued to it for some time. Then she repeats the process. My reaction to her activity varies. Some days I watch her patiently and think, "Oh! My little girl is so cute in her old age." Other days I really have to hold myself in check because a 10-minute walk turns into a 45-minute jaunt I study every rock, every crack in the fences, and every cloud in the sky.
I remember her standing in front of me, leaning to the right and looking at me with her white aging face. Her vision is failing, and I wonder what she sees. Am I a hazy outline? A blur? Are parts of me missing? When her sight and hearing first started fading, some of her former neurosis reappeared. Our last walk in the dark is a careful inching along the sidewalk, which doesn't prevent her from heading straight into the street with an eerie determination.
One day I came home to hear Viva barking in the house as she did when she was younger. It baffled me after not hearing it for so long. She had tried to get up and found herself unable to do so. I just sat with her for several minutes and petted her before lifting her up and carrying her outside into the warm sun. I found that I had to hold her so that she could drink some water. After I put her on a blanket, she started to drift off to sleep. I told her that it was time to let go. She had been a really good girl, and I asked her to forgive me all my mistakes toward her. I thanked her for getting me through some really hard times and told her how much I loved her.
I got up and called Hannah, Viva's veterinarian who had known her throughout our life together. Hannah would come to my home to help Viva make an easy departure from this world to the next. I was cold although it was warm outside. My heart seemed to shrink to a tiny pebble inside my chest, my mind was traveling in the ozone, my soul was jumping its track, trying to escape the pain. I thought, "Oh, high heaven, grant me mercy to face this loss " and I wait for Hannah.
Viva left in the best way possible—I owed that to her. I know that she will live on with those who had met her, whether they remember her delicate beauty, her feistiness, her prance, her intelligence, her joy at seeing her friends, or her generosity to her dog friends ("You want to have some of my food? Sure, go right ahead!"). She had a miserable start in life, but we made the best of it that we could, according to our personalities. I'll always hold my little girl dog Viva very close to my heart.