Microchips Keep Families Together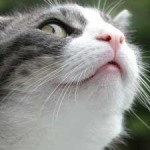 Last month, I saw a beautiful gray cat lying in my driveway. From a distance, she appeared to be well-fed and cared for, but she wasn't wearing a collar. Fortunately, since I live in Sarasota, it wasn't too cold out. But it was dark, and I couldn't tell whether she was all right, so I made some psst-psst-psst cat-calling sounds. Being more of a "dog person," I didn't realize that, in kitty language, this means, "Come on in, make yourself at home, and refuse to leave."
She came running and began rubbing up against me. I gave her some water and a vegan scallop—the closet thing that I had to cat food in my house. She explored every room and then spent an hour or two sprawled out on my sofa before she slipped outside again.
Knowing that it's not safe for cats to be outdoors, I tried to keep track of her, but she disappeared.
The next morning, Sweetpea, as I had called her, was meowing at my front door. None of my nearby neighbors recognized her, nor did the mail carrier or the guy who operates the local lawn service.
Things went on like this for a few days. She spent a chunk of time with me and the rest of it God knows where. I knew that this "system" couldn't continue. I didn't necessarily want an animal companion or the expense or responsibility that goes along with having one, but she had made up her mind: She was keeping me. So I bought all the provisions—a collar, an ID tag, and a carrier—and made a vet appointment to make sure that she was spayed.
As it turns out, "she" was a neutered male who had a microchip. "Tiger," which was his real name, lived one street over and had slipped out when one of his guardians was bringing in the groceries. A guardian came to collect him and explained that he gets out occasionally because he's "super-quick," the kids tend to hold the door open too long, and the family's patio isn't screened-in.
I gave Tiger a kiss goodbye and encouraged his guardians to put actual tags on him, because if they had done that, I would have called them right away. I've since found out that they took my advice, because when he got out again and came for a visit soon after, he was sporting a new collar and tag. This time I simply called their number.
Although I wish that he had been wearing tags to start with, I'm thankful that he at least had a microchip. I know that his family missed him.
So after all this, I was especially happy to learn about the new law in the U.K. that requires dog guardians to have their "best friends" microchipped in order to cut down on the number of stray animals. It's a good start, at least. I hope it will soon apply to people who have feline companions, too, and ultimately, that a similar law will be passed in the U.S.
If Tiger/Sweetpea hadn't been microchipped, he may never have been reunited with his family. Collars and tags, while extremely important, as noted, can come off (or be removed by ill-intentioned people), but microchips are permanent. They're reasonably priced and can be quickly inserted under an animal's skin by a trained veterinary technician. The humane society that Sweatpea—er, Tiger—was adopted from had him microchipped before he went home with his family. Thanks to this practice, he was reunited with them about a year later after escaping and venturing a block from home.
Stay safe now, my Sweatpea.
More: