Five Easy Tips for Staying Vegan in a Challenging World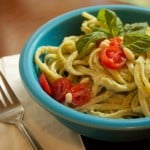 It's hard to turn on the TV or go online without coming across something about vegan eating. Hollywood beauty Michelle Pfeiffer recently credited her healthy vegan diet for her enviable appearance at 54. Earlier this year, the Cooking Channel aired the first mainstream vegan cooking show, How to Live to 100. And just in time for Valentine's Day, the TODAY show's website dished up recipes for delectable vegan desserts.
Vegan eating is easier than ever, but there may still be times—particularly for someone who has recently adopted a compassionate diet—when it may seem challenging. The following five easy tips will help you stay vegan in a nonvegan world:
1. Make the best choices that you can. These days, eating out isn't much of an issue since any restaurant worth its salt can whip up a decent vegan meal, even if it's just a simple pasta dish. But you will inevitably find yourself in some trickier situations. In these cases, just do the best that you can. Say you're on the road, your stomach's growling, and the only place in sight is a gas station: Look for fresh fruit, nuts, pretzels, or common dairy-free products such asmany flavors of Clif bars. If you've been invited to a reception and suspect that a not-so-filling crudité plate is in your future, you may want to eat a light meal before you go. When attending get-togethers with your meat-loving family, be sure to offer to bring along a vegan dish (or two) that everyone can try—and serve them with a smile.
2. Arm yourself with info. It's bound to happen: You tell someone that you're vegan, and suddenly he or she becomes an expert in nutrition. Luckily for you, you know that beans and soy foods are packed with protein, that dark leafy greens and sesame seeds are calcium superstars, and that blackstrap molasses and quinoa are rich in iron—and iron you're ready to respond to all of the person's unsolicited advice. If you need a nutrition refresher, check out PETA's vegetarian/vegan starter kit.
3. Switch it up in the kitchen. I once went through a spell during which I ate almost nothing but rice bowls for dinner. Brown rice with broccoli and chickpeas. Rice with crumbled meatless meatballs, sundried tomatoes, and kale. Rice with garlicky tofu and any veggies that I happened to have on hand. Guess what? I got tired of rice bowls. We all get into food ruts from time to time. When this happens to you, it's time to try something different! Look online for vegan recipes or treat yourself to a new vegan cookbook.
4. Remember why you went vegan in the first place. Did you go vegan to help animals? (Each vegan spares more than 100 animals every year.) Your health? (Going vegan reduces your risk of cancer, heart disease, and many other ills). Mother Nature? (The meat industry contributes to land degradation, climate change, water shortages, and food waste.) These are all great reasons to stay strong—and stay vegan!
5. If you make a mistake, don't beat yourself up. Going vegan isn't about being perfect, and we all slip up occasionally. Maybe you didn't read the label carefully, or against your better judgment, you let someone talk you into ordering cheese on your pizza. When something along these lines happens, remember that you can always make a better (vegan) choice next time.
For more tips on how to go and stay vegan, check out this great article and this one.