It's Still Mad to Eat Meat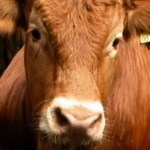 It should go without saying that it's never safe to eat something that could potentially transmit a fatal disease that causes sponge-like holes in the brain. But, according to news reports, the World Organisation for Animal Health will soon give the U.S. an upgraded international safety rating for mad cow disease. This is bad news for cows, because it will very likely translate into more of them being killed and exported to other countries, as well as for consumers, since it gives them a false sense of security about eating cow flesh.
Mad cow disease is still a very real risk, as the discovery of an infected cow from a California dairy farm less than a year ago reminded everyone. Yet the U.S. Department of Agriculture tests only a tiny fraction—less than half of one percent—of the 34 million cows who are slaughtered each year, which means that countless cases of mad cow disease could be going undetected and that the flesh of infected cows could be ending up in supermarkets and restaurants—and on consumers' plates.
What's even more frightening is that many people could already be infected with mad cow disease—which, in humans, is called new variant Creutzfeldt-Jakob disease (vCJD)—without knowing it. There are no symptoms during the disease's incubation period, which can be even decades long. It is even possible that Americans who have been diagnosed with dementia or Alzheimer's may actually have contracted vCJD, as the symptoms of these diseases are so similar.
A better safety rating on paper will do nothing to protect consumers from this devastating and deadly disease. It's up to us to ensure that we and our families aren't at risk from mad cow disease—as well as heart disease,  cancer, diabetes, and other diet-related ailments—by steering clear of beef and other animal products entirely and choosing healthy vegan foods instead.