New Tastes in Miami's South Beach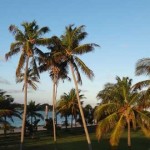 When I took my first road trip in 1989, Miami Beach, Florida, had not yet been anointed a global hotspot and Lincoln Road was years from its current fame as a glitzy pedestrian mall anchoring the north side of South Beach.
But here you could find inspired cooking at little places such as the Wet Paint Cafe on Lincoln Road. In the intervening decades, Wet Paint's owner, Bernie Matz, opened The Café at Books & Books, a locals' favorite on Lincoln Road, and Wet Paint's chef, Douglas Rodriguez, opened several restaurants, earned a James Beard nomination, and mentored young chefs in the art of Nuevo Latino cuisine.
During my recent return to South Beach, I had the pleasure of tasting animal-free specialties created by one of Rodriguez's protégés, Carlos Torres, and by Bernie Matz, who possesses culinary chops in addition to management skills.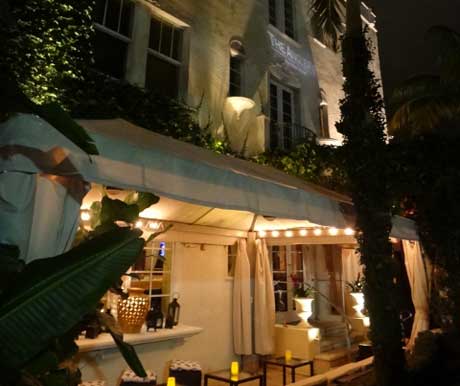 Last year, Torres brought his talents to 660, a cheery indoor and outdoor restaurant at the boutique resort The Angler's on a revitalized stretch of Washington Avenue. The location is just a couple of blocks from South Beach's shopping and club district and two blocks west of the emerald-green Atlantic Ocean. It was tempting to spend each lunch and dinner at 660 with the number of fresh, zesty, and beautifully presented dishes that are entirely plant-based or easily veganized. Combining Latin American flair and French cooking techniques, Torres seasons deceptively simple small plates such as the heirloom tomato-avocado salad to make them immensely satisfying. The lightly grilled Brussels sprouts in citrus-molasses marinade taste sinful. And good thing I snapped a picture of the braised sweet potato and sun-dried tomato ragoût, since it disappeared as soon as my fork made first contact.
I didn't even need to rent a bicycle at the DecoBike bikeshare dock to get to Lincoln Road, where I enjoyed al fresco dining at The Café at Books & Books. Chef Matz's menu included so many vegan-friendly selections that I gave up trying to decide on just one and ordered the vegetarian platter, which is all vegan. The black-bean hummus paired a pleasingly dense texture with sumptuous flavor, and the grilled corn salad made a perfect chaser. I substituted the popular grilled tofu with a sample of succulent roasted eggplant. Housemade bread served to sop up trails of flavor, and the butternut squash–coconut soup became dessert. On the next visit, I'm going to try the ginger-carrot cake. Be assured: The fare is local, sustainable, and organic.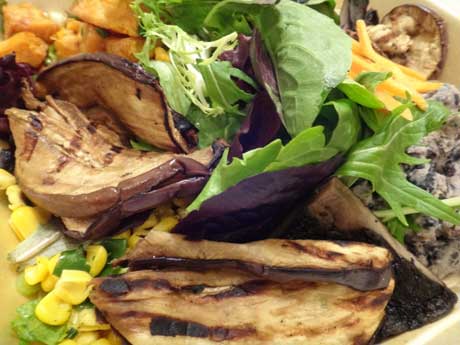 The same goes for ingredients used at Matz's new eatery on Alton Road, where I had lunch on my last day in South Beach. The "L.A." in Bernie's L.A. Café stands for Latin American, and the selections are meticulously presented, affordable takes on traditional fast-food fare, from veggie bowls to fajitas. I had a veggie wrap with Matz's housemade hot sauce (with guava and lime) and a side of sweet maduros (plantain slices lightly grilled in oil).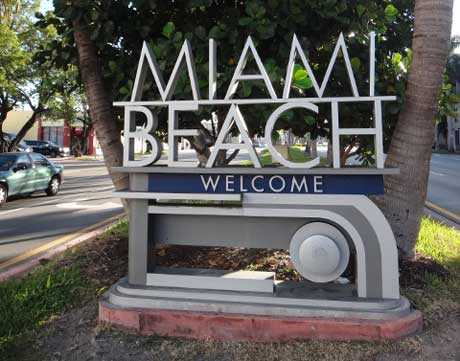 South Beach has plenty of other vegan-friendly places, including the following:
• t.h.r.i.v.e., a hideaway on Alton, is a sure bet for delectable raw and totally vegan entrées, teasers, desserts, and fresh, pure juices.
• Escopazzo is a fine organic-focused Italian restaurant, and chef Giancarla Bodoni's several vegan and raw courses are among her best creations.
• Pizza Fusion offers a savory Very Vegan mushroom and roasted garlic pie on whole-wheat crust as well as salads, a plant-based cheese, and organic ingredients.
• Pasha's serves flavor-packed, wallet- and animal-friendly Mediterranean semi-fast but fresh dishes.
The fine fare in South Beach guarantees plenty of energy for swimming in the waves, doing yoga on the sand, or walking around companion animal–friendly South Pointe Park at Miami Beach's southern tip. It's a place for those who care about animals—even the lamps used to illuminate the park use "turtle-safe" lights that won't confuse newly hatched sea turtles who must hurry to the water in darkness.
All images ©Robin Tierney.