Brightly-Hued Vegan Foods Keep Disease at Bay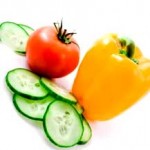 You can add Lou Gehrig's disease to the long list of conditions that can be prevented by eating wholesome vegan foods. Researchers have found evidence that eating colorful fruits and vegetables—especially those that are yellow, orange, and red—may prevent or slow down the onset of amyotrophic lateral sclerosis (ALS), the proper name for the debilitating and deadly disease.
Brightly colored fruits and vegetables, such as carrots, tomatoes, peppers, melons, and berries, are rich in carotenoids and other nutrients, which may decrease your risk for ALS. The study, published in the journal Annals of Neurology, involved more than a million participants. Only 1,093 cases of ALS were found once the investigators excluded participants with "unlikely food consumption."
The researchers point out that other factors might play a role—people who eat a lot of plant-based foods also tend to exercise and take supplements, steps that may also help ward off ALS and other diseases. Although the research is not yet conclusive—even the doctors who conducted the study acknowledged that further research is needed to examine the impact of dietary nutrients on ALS—it does reinforce one widely held belief: Fruits and vegetables are healthy and may even pack unique healing powers!
Previous studies suggest that people who eat brightly hued fruits and veggies are less likely to develop cataracts and that various fruits and vegetable can reduce the risk of Alzheimer's Disease. Many plant-based foods have age-defying properties and can reduce the risk of cancer, heart disease, and diabetes.
So if you want to stave off Lou Gehrig's disease or any of the illnesses mentioned above, try making some of these colorful dishes:
• Garlic-lemon roasted asparagus
• Sumptuous spinach salad with orange sesame dressing
• Portobello and red pepper quesadillas
• Tomato, cucumber, and basil salad
Or whip up some of PETA's other tasty vegan recipes.
Enjoy!