What Do Healthy Vegans Eat In A Typical Day?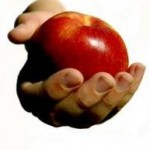 The following article comes to PETA Prime from Trevor Justice, owner and director of the Vegetarian Health Institute.  The institute teaches people to thrive on a whole-foods diet and stay fit for life, and it's a proud PETA Business Friend.
When I searched online for sample plant-based menus, I was shocked to find menus recommending bagels and margarine for breakfast—two foods we discourage eating in the Vegetarian Health Institute's Mastery Program. [link]
Margarine is a trans fat. And according to the U.S. Food and Drug Administration, bagels are among the top 20 acrylamide-containing foods.
In The Mastery Program, Dr. Michael Klaper explains that when you bake, fry, or roast any starchy food—whether potatoes, bread, French fries, crackers, cereals, or cookies—you will inevitably create acrylamides.
Acrylamides are nasty chemicals, known to damage chromosomes, increase oxidative damage in tissues, injure nerve cells, and be a low-grade carcinogen. As food browns during frying or baking, you are watching acrylamides being produced. Heavily overcooking foods produces large amounts of acrylamide, as does microwaving.
To show our students what real health experts eat, I asked eight cookbook authors to log what they ate during a typical day, and I did the same. Then I published all eight food journals as part of our Vegan Mastery Program. Click here to read some of these informative journals and discover more about the Vegan Mastery Course offered by the institute.