Quirky Cats: It Must Be Something in Their Water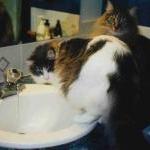 I wonder how many other PETA Primers share their homes with cats who are water crazy? If you do, you know exactly what I mean by "water crazy."
Some water-crazy cats park themselves at one particular sink and stay there for hours, crying for someone, anyone, to come and turn on the faucet. They bat at the water and splash it all around, and then they act so annoyed when you dare to interrupt their fun by turning off the water. They give you that look as if they are asking you, "How dare you interrupt this important item of business?!"
Some of the water-crazy cats I've lived with entertained themselves by hanging around or napping until they heard the sound of running water. Then they made a mad dash to the sink to stare transfixed at the water, or stick their paws and sometimes their heads under the faucet.
Romeo, our big lover-boy kitty, is not just fascinated by the sink-he is obsessed with the dog's water bowls. He loves to carry socks and little stuffed animals from all over the house and drop them into the water. Sometimes he pulls them out and drops them back in again for us to "fish out." Romeo has even managed to submerge stuffed animals that are almost his own size.
Romeo just loves laundry day and waits by the dryer. When we fold up the socks, he makes his move. Sometimes he snuggles with the warm socks before he carries them over to the water bowl, but they always end up in the bottom of it. I have caught the little guy in the act many times!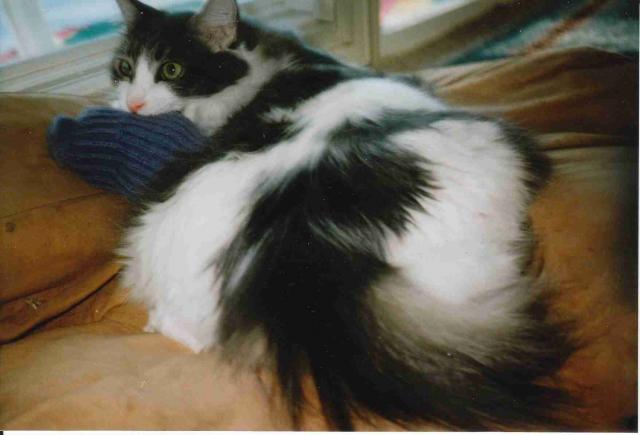 Sometimes I try to get into Romeo's head and think about why he might be doing this, but I usually cannot come up with any solid answer. Then I remember that, oh yes, it is yet another cat thing … those sweet animals and their quirks!
Do you share your home with any water-crazy cats? What is your theory on why they are so water crazy? What about your little ones' special quirks?
Leave a comment and let us know!
More: