Win Terrific Prizes From Michelle Leon Vegan
Michelle Leon Vegan proves that high fashion can create a powerful statement about living vegan. From its Brooklyn-based studio, this animal-friendly company and PETA Business Friend creates wonderful jewelry, belts, and handbags that are purely vegan. The company's founders have been involved in the fashion world as designers and developers for many years and are helping to set an example for the fashion world showing how elegant, timeless, and high-quality vegan goods can be.
Here's your chance to embrace the company's slogan of "Wear Your Awareness"—as well as your own sense of high fashion—by entering our contest to win one of these three valuable prizes:
• The first-place entry will win a vegan belt valued at $180.  This belt will remind others of your commitment to abused and mistreated animals and your pledge not to wear their skins.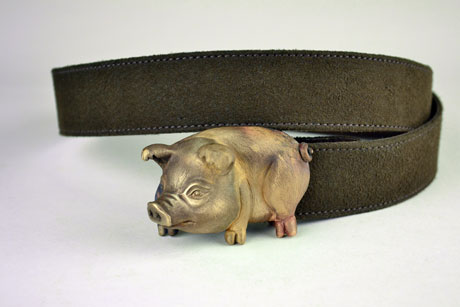 • Our runner-up winner will receive a beautiful sterling silver necklace valued at $145 that features a "Vegan" signature balanced on a jade stone.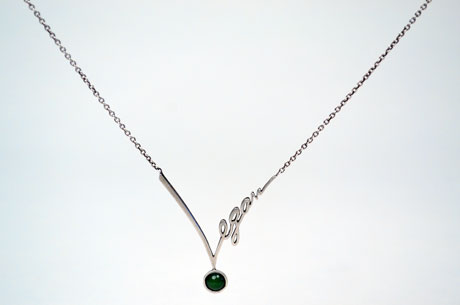 • The third-place entry will win a bronze "Vegan" pendant worth $124 that comes seeded with four stones and that will let you make a powerful and beautiful statement.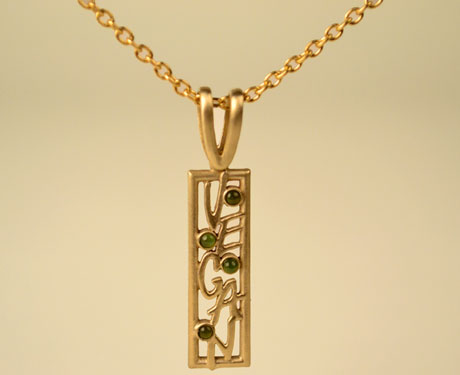 To enter, e-mail us at [email protected] with your full name, street address, and phone number, along with your most sincere answer to this question: "How you are making a statement for animals in your own life?" Are you sharing PETA literature and action alerts with friends? Have you been creating store or library displays with a compassionate message? Will you be volunteering to help animal organizations or animal shelters in your community?
However you are speaking out for animals, we want to hear about it!
There are no limits to your entry's length, but detailed answers are appreciated and can help inspire others. They might even be posted on PETA Prime on February 07, 2013.
Contest entries will be accepted by e-mail only from January 17, 2013, through February 01, 2013. Be sure to read our privacy policy and terms and conditions, as you're agreeing to both by submitting your entry.
Good luck!