How long do cats and dogs live?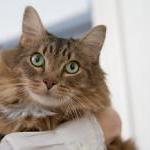 I'm asked this question every week, usually by well-meaning guardians trying to make sound medical decisions in behalf of their older dog or cat. The good news is that our animal companions are living longer than ever before. Let's discuss the reasons:
1) Preventive veterinary care: Veterinarians have far greater resources to discover and treat age-related disorders and ailments, such as kidney failure, arthritis, heart disease, and cancer. As with human health care, it is much less costly and more successful for us to discover problems in their early stages rather than when the problem has become advanced. Given that our animal companions have limited means of communicating their malaise to us, it's important that you and your veterinarian develop a plan as your dog or cat ages. I generally advise a checkup every six to 12 months once your furry friend is deemed a senior citizen.
2) The human-animal bond: In a previous post, I discussed the varied reasons why dogs and cats are now seen as family members by an increasing proportion of our society. This renewed and profound commitment has driven the rapid growth of veterinary specialists and emergency care, lunchtime dog walkers, and day care. The change in the role that animals play in many of our lives has also contributed to their enhanced longevity.
3) More cats are indoors: With the growth of urban centers, our animal companions have followed us into apartments, dorms, and offices. As a result, injuries and fatalities from outdoor hazards have declined, but the consequences of a sedentary lifestyle (e.g., obesity) have increased, so it's important to provide indoor cats with enough exercise.
4) Smaller dogs live longer: For those wanting a canine companion, many have chosen a small breed better adapted to living in a smaller space. I've always said, "All dogs eat the same total amount of food in their lives." That is, large dogs eat more food on a daily basis than little ones, but the larger the dog in general, the shorter the lifespan. Toy breed dogs may eat very small meals, but they can often live to be 12 to 16 years of age. So if you're looking for a canine companion, and longevity is what you're after, think small.
The flip side of this increased longevity of our animal friends is acknowledging our responsibility to help care for them through their golden years.
This means preparing both financially and emotionally to do our best to help them maintain the highest quality of life that we can provide. There are more options available to help older dogs and cats now than ever before.
As long as we prepare for their future and make thoughtful decisions in their behalf in conjunction with your veterinarian, the answer to the question "How long will he or she live?" may be "who knows"!