Be a Secret Santa for Animals!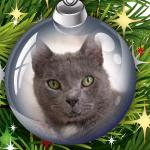 Will you make room on your Christmas list—and in your heart—for an animal in need? PETA is looking for a few Secret Santas for a cold dog, an unsterilized cat, or an exhausted Indian bullock.
Your friends and relatives probably already have enough knickknacks and new gadgets to stretch from here to the top of Mount Crumpit and back 12 times, yet too many animals are facing a holiday season without a warm spot to curl up in or a loving home. Some have never even heard a kind word or felt a gentle touch.
PETA's Community Animal Project (CAP), which provides hands-on help to neglected and abused animals, is working hard and around the clock to change that.
Every winter, CAP builds and delivers sturdy, straw-filled doghouses to dogs who are forced to live outdoors without shelter through the bitter cold of winter. Of course, the CAP team members do everything that they can to persuade people to allow their dogs to live indoors and treat them like members of the family. They'd love to see these dogs inside homes, nestled in warm beds. But some people refuse to allow their dogs to live indoors, and in many places, law-enforcement officials can't or won't act because of callousness, a lack of resources, or weak laws. The doghouses are often the only "home" that these dogs have ever had, and it's humbling to see how four walls, a roof, and a fluffy bed of straw can make such a huge difference in their lives.
You can help CAP bring comfort and joy to a "backyard dog" by signing up to be a Secret Santa and sponsoring a sturdy doghouse, a bale of straw (which provides warmth and much-needed insulation), [link] or a vegan pig ear chew toy to make winter less lonely and cold for a "backyard dog."
You can also be a Secret Santa by helping the SNIP (Spay and Neuter Immediately, Please!) program's efforts to end animal homelessness by funding a spay or neuter surgery for a cat or a dog through PETA's no-cost to low-cost spay-and-neuter clinic.
Or consider extending your compassion and generosity to a working animal in India through the Animal Rahat program. Throughout India, thousands of bullocks, horses, and donkeys are forced to pull heavy carts for miles in the sweltering heat. The worn-out animals often suffer from lameness, injuries, and illness. You can give a working animal a much-needed day off—or help an animal retire—by becoming a Secret Santa.
In honor of the Secret Santa tradition, we won't reveal your identity, but we hope you'll tell others about your kindness and urge them to be a Secret Santa too.
By becoming a Secret Santa today, you can help animals have a happier life for months and years to come!