Pig Farms Are Killing More Than Pigs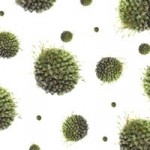 Frightening new research from the University of Manitoba shows that healthy pigs can pass the deadliest form of the Ebola virus to primates, even without ever coming into contact with them. Although it's too soon to say for sure, the researchers suspect that the virus might be spread by pig farms.
This finding doesn't exactly surprise me. Most pandemics—bird flu, swine flu, and mad cow disease, just to name a few—originate in animals. According to Tara Smith, who studies emerging infectious diseases at the University of Iowa, pigs often acquire and transmit "nasty zoonotic viruses," including influenzas, the Nipah virus, and now at least two types of the Ebola virus.
Methicillin-resistant Staphylococcus aureus (MRSA), an antibiotic-resistant staph bacterium that can cause deadly "flesh-eating" skin infections and serious illnesses, has also been traced to pigs. MRSA thrives on filthy, overcrowded factory farms, where tens of thousands of animals are confined to damp, filthy sheds.
One survey in Belgium showed that MRSA has been found in 68 percent of the country's pig farms. In 37 percent of these cases, the farmer and the farmer's family carried pig MRSA—a variant of human MRSA.
Scientists from the Johns Hopkins Bloomberg School of Public Health in the U.S. have even discovered that people who live near farmed-animal operations are more likely to contract MRSA. The bacterium has also been found in pork, beef, chicken, and turkey sold in U.S. supermarkets, which puts even more people at risk.
Our demand for meat means that pigs, chickens, cows, and other animals must be mass-produced in crowded, feces-ridden factory farms and slaughtered on killing floors that are covered with blood, urine, and other often contaminated bodily fluids. Animal-borne pathogens, including MRSA, salmonella, campylobacter, listeria, and E. coli bacteria—which live in animals' intestinal tracts and feces and can cross-contaminate fruits and vegetables when manure is used to fertilize crops or when it leaks into waterways—often spread and sicken humans.
Although exact figures are hard to come by, the swine-flu outbreak in 2009 apparently sickened at least 55 million Americans and killed approximately 11,160. The global death toll was much higher.
If we want to reduce our risk of contracting animal-borne diseases, we should stop breeding animals for food. And since meat, eggs, and dairy products are linked to occurrences of cancer, heart disease, and diabetes, we're all better off if we trade in hot dogs, hamburgers, and chicken sandwiches for healthy, great-tasting meals that don't contribute to either the suffering of animals or the spread of deadly epidemics.