Fighting the Big Four: High Blood Pressure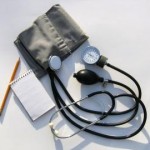 Recently, we've been reviewing details with PETA Prime readers about four of the leading health problems afflicting Americans—high blood pressure, heart disease, diabetes, and cancer—and how you can combat them.
According to the Academy of Nutrition and Dietetics (formerly, the American Dietetic Association), all these life-threatening conditions can be prevented—and even treated—by adopting a healthy vegan diet, coupled with a sensible exercise regimen, such as walking for half an hour every day. Today we'll focus on high blood pressure, aka "hypertension."
Blood pressure is the measure of the force with which the blood pushes against the walls of the blood vessels. When these vessels become partially blocked—often from a buildup of excess cholesterol on the inner walls—the heart has to work harder to pump blood. The buildup can lead to hardening of the arteries, which in turn, can lead to heart failure or a stroke.
Although other unhealthy behaviors, such as smoking, excessive intake of salt, and frequent alcohol use, are factors that can contribute to high blood pressure in some people, eliminating cholesterol intake can be a powerful tool for preventing and reversing high blood pressure caused by cholesterol deposits. Your body produces all the cholesterol it needs, and whole grains, fruits, and vegetables are high in nutrients and fiber and completely devoid of cholesterol. Whole unprocessed plant-based foods are also generally lower in sodium, and many vegetables and fruits, such as bananas, sweet potatoes, and leafy greens, are rich in potassium, which can help lower high blood pressure as well.
In contrast, the saturated fat and cholesterol in meat, eggs, and dairy products can actually make the blood thicker, leading to an increase in blood pressure. Just dropping extra pounds can also lower hypertension. More good news: Vegans are, on average, trimmer and fitter than meat-eaters are.
If you're ready to start on the road to better health in the most delicious ways imaginable, just visit PETA's handy resource page. It covers everything from recipes to tips for shopping for all the ingredients you'll need to prepare meals that will help reduce your blood pressure, your weight, and your trips to the doctor's office.