Man Up, Meatheads! Why 'Real Men' Eat Vegan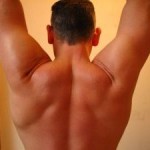 Whether it's an in-your-face insult or a sly sideways remark, any guy who has been vegan for a while has heard it—the implication that he's not a "real man" because he doesn't eat meat.
Huh? I'm vegan, I'm pretty sure I'm real, and my doctor can testify that I'm a man.
Why some people believe, despite all evidence to the contrary, that the possession of both a Y chromosome and a conscience somehow renders one less-than-manly mystifies me, but some recent research has revealed how persistent and pervasive this idea remains—fueled, of course, by macho meat-industry marketing. Studies published in Psychology of Men & Masculinity and the Journal of Consumer Research suggest that many American males still confuse meat-eating with manliness.
The notion that there's only one acceptable way to be a man (or a woman) is always ridiculous and oppressive. Whatever any man does is, by definition, masculine—whether it involves baseball, brokerages, or ballet. And since the consequences of meat-eating on animals, the environment, and our health are so disastrous, the "men-eat-meat" myth is particularly insidious.
Since it seems that most guys can't be objective about this topic, maybe the ladies can help us out.
Men's Health magazine took a survey of women to find out what they see as the ideal qualities in a man. Here are some of the top traits they identified. Let's see who fits them best—vegans or meat-eaters?
• Fitness
Healthy vegan foods support a lifetime of good health, whereas consuming meat, milk, and eggs raises your risk for numerous diseases, including obesity, diabetes, heart disease, cancer, and strokes.
• Being Good in Bed
Cholesterol—which is found only in food from animals—doesn't just hurt your heart. It can clog blood vessels further south, if you get my drift.
• Intelligence
Well, how smart can you be if you're mostly eating stuff that's likely to make you impotent and overweight and cut your life short? Advantage: vegans.
• Passion
The decision to go vegan stems from a passionate commitment to kindness and justice. Meat-eaters, on the other hand, convey a message of apathy about animals, the planet, and even their own health.
• Confidence
Instead of going along to get along, a vegan has the self-assurance truly to be his own man and not to conform with stereotypes. Meanwhile, it's hard to avoid the thought that those supposed "real men" make a big show of eating meat because they're worried about the inadequacy of their own, um, manhoods.
• Generosity
• Kindness
• Moral Integrity
Need we say more?
It's no contest. So let's put a stop to the lie that red-blooded males need bloody red meat, and spread some truth. Virile vegan he-men are cool—and smokin' hot!