Age Just Another Trivial Number for Virile Veggies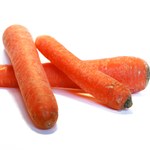 Ramjit Raghav is a farmer in India. After giving up his bachelor ways 10 years ago, he and his wife hoped to have two boys, and recently, the couple welcomed their second son, Ranjeet.
"Okay, that's nice," I can hear you saying, "but so what?"
Here's what: Ramjit Raghav is 96 years old. With Ranjeet's birth, Ramjit holds the record as the oldest new father on the planet. And what does this farmer attribute his extraordinary virility to? Rather than relying on little blue pills, Ramjit cites praying, abstaining from alcohol, and being a vegetarian.
All right, then. Can we finally put to rest the ludicrous notion that guys who don't eat meat are somehow less virile than their carnivorous brothers? At 96, Ramjit's example serves as a reminder that when the time comes to turn up the Marvin Gaye and turn down the lights, vegetarian men don't just keep up with meat-eaters, they often leave them in the dust. Even when there's snow on the roof, they keep a fire going with clean-burning, plant-based fuels, if you get my drift.
If not, here's the sweet and lowdown: High cholesterol, obesity, diabetes, prostate cancer or inflammations, and hormonal imbalances cause the vast majority of cases of erectile dysfunction. All these conditions can be managed—or in some cases, even prevented—with a low-fat, high-fiber vegan diet to scrub the plaque off the arterial walls and get the blood flowing and your love life going.
Eating meat also increases the amount of synthetic hormones that your body takes in, which may contribute to a reduced sperm count and increased risk of testicular tumors. Cutting meat, dairy products, and eggs out of your diet is a simple and proven way to lower your cholesterol and blood pressure naturally.
No doubt about it: Real men are kind to animals—and to their own bodies. There's a reason why the word "gentle" appears in the term we use for that ideal of manhood: the gentleman.
It's time that guys got the message: If you're concerned about your sexual performance at any age, don't bother installing the side-by-side outdoor bathtubs apparently needed to use Cialis. Visit the produce department instead to help you stock up on some veggie Viagra.