A Recipe for Romance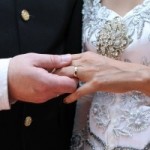 Remember that classic U2 song "Two Hearts Eat as One"? Wait, what? It's not "eat"? Well, maybe it should be!
The world's longest-married couple, 107-year-old Karam Chand and his 100-year-old wife, Katari, have lived in wedded bliss for 87 years. And we don't think it's any coincidence that the long-lived lovebirds are both vegetarian. Healthy hearts stay together longer, and one of the best ways to stay healthy is to go vegetarian.
According to Karam, the keys to growing old together are laughter, taking the time to listen, and looking after one another. But he also credits the healthy meat-free meals that he and Katari have shared. "A simple life and good-quality food, mostly roti, dal, rice and vegetables, are the main reasons for our long life, and long marriage," he says.
Explains Katari: "When I was young I used to make him a nice fresh meal every night. We are vegetarian so I brought lots of fresh vegetables and made sure he was eating healthy food. Health is very important and I wanted to look after him so we could grow old together. Some would say it has worked!"
She adds, "We have always eaten good wholesome food."
To ensure that your relationships stand the test of time, follow Karam's and Katari's example by treating your loved ones to lovingly prepared vegetarian meals. We suggest starting with a delicious feast of mung daal soup, Tandoori "chicken" kebabs, and homemade naan.
And if you're not already feeling all warm and fuzzy, we'll end with this final thought from Karam about his life with Katari: "I love her so much and I want to spend another 80 years by her side."