Our Mom's Famous Vegan Holiday Roast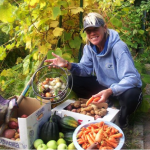 We long ago solved the Thanksgiving (and holiday) turkey-dinner "problem." Our Ma's recipe for a vegan holiday roast and two different gravies is below. It's become a true tradition in our family. As you can see, the roast is really a high-protein "dressing," and just a warning–this recipe makes a very large amount, so make sure that you share with family and friends!
Both gravy recipes are very tasty and nutritious. The roast plus mashed potatoes with gravy forms the core of our Thanksgiving dinner. Then we just suggest simple nonmeat dishes for guests to bring–desserts, vegetables, salads, relishes, etc. This is every bit as satisfying and much healthier (no grease, antibiotics, hormones, etc.) than eating a turkey on Thanksgiving–and you'll save a life!
Happy Thanksgiving! Enjoy the recipes, and let me know what you think of them!
Holiday Roast (With mashed potatoes, this recipe is great for nonvegetarian company!)
1 cup lentils
1 cup millet
1 cup brown rice
6 cups water
1/2 cup chopped celery
1/2 cup cornmeal
1/4 cup oil
4 slices bread, crumbled
2-3 Tbsp. sage
1/2 cup oatmeal
1 cup chopped onion
3 Tbsp. tamari or soy sauce
1 lb. extra-firm tofu, crumbled
1/2 cup sliced water chestnuts
Cook the lentils, millet, and brown rice in 6 cups of boiling water until soft (about 45 minutes).
Preheat the oven to 350ºF.
Heat oil in a hot skillet and sauté the chopped celery and onion. Mix together the soft lentils, millet, and rice mixture with the onion sauté and the remaining ingredients. Place in a large slow cooker or large covered, oiled baking pan and bake for at least an hour, stirring occasionally, until it reaches the consistency of a "stuffing." Spoon out and serve with gravy and mashed potatoes.
Golden Gravy (This is my favorite gravy–it's super easy!)
1/2 cup nutritional yeast flakes
½ cup whole wheat pastry flour
3 cups water
4 Tbsp. soy sauce
1 Tbsp. oil
1 tsp. powdered onion
¼ tsp. black pepper
Place 1/2 cup of nutritional yeast flakes and 1/2 cup whole wheat pastry flour in a dry saucepan and toast while stirring over medium heat until lightly brown and fragrant.
Remove from the heat. Gradually whisk in all the other ingredients.
Cook and stir until thick and smooth.
Cashew Gravy
2 cups water
1 Tbsp. tamari
2 Tbsp. onion powder
1/2 cup cashew pieces
1/2 tsp. salt
2 Tbsp. cornstarch
2 Tbsp. oil
Place ingredients in a blender and liquefy.
Thicken on stove or in microwave.