Sensations at Lexington's Public Square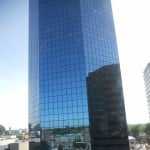 Cheapside Park, the public square of Lexington, Kentucky, is certainly a good place to sense the collective character of the city's residents, and it also makes visitors feel immensely welcome.
The park is jam-packed for the Saturday farmers' markets, Thursday Night Live concerts, and occasional events such as the Bluegrass Pride decorated rain-barrel exhibition. The park abuts the historic county courthouse, a gem of Richardsonian Romanesque architecture.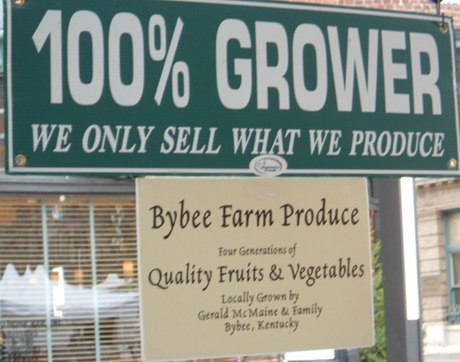 One standout at the farmers' market for me is the pure flora sourdough bread that looks as divine as it tastes. Liam and Valentina craft slow-fermented, elaborately decorated bread from stone-ground whole wheat and herbs as well as bits of carrots, asparagus, raisins, black walnuts, rosemary, and peppers. Liam explained that the process is not just about beautiful presentation but more about enabling the body to absorb more nutrients. The vegan couple first perfected their bread when living in Sicily and had planned just a short visit in the United States—but then they "clicked with" a Lexington-area farm co-op, where they cultivate heirloom vegetables and naturally raised bedding plants while crafting their bread.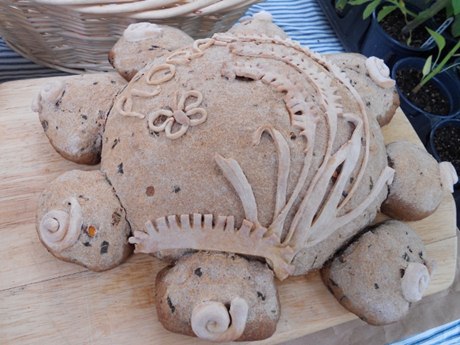 Other market offerings include pumpkin, apple, and peanut-butter vegan treats from Paw Prints Bakery, "I Can't Feel My Face" and other Sadistic Mistress Sauces, and greens from Meadowbloom Farm, which a vegetarian-centric couple started as a post-retirement dream. Live music in the park includes some real-deal bluegrass.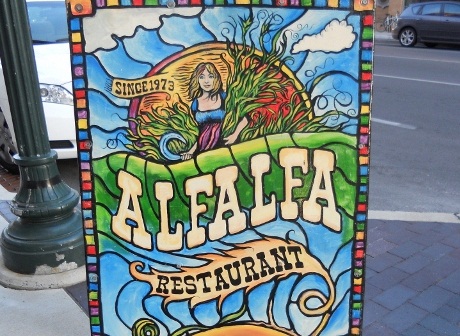 Between its location near local farms and the University of Kentucky, downtown Lexington offers plenty of friendly eateries with fresh plant-based selections. A short walk from Cheapside Park, Alfalfa restaurant serves crunchy, healthy salads with an addictive vegan miso dressing and a zippy veganized Hoppin' John. Opened in 1973, Alfalfa demonstrates a deep commitment to local growers and organic practices. It's crowded for good reason, but the friendly staff keep the food moving while chatting about local events, which are promoted by bunches of cool posters filling some of the windows.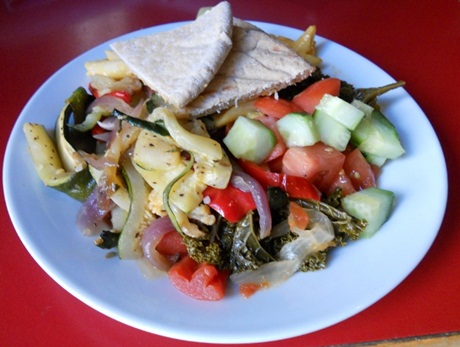 For cerebral, visual, and sonic thrills, there's the indie stage at Natasha's Bistro & Bar, also near the square. I enjoyed the charred cauliflower-squash casserole and other similar selections at Natasha's daily lunch buffet. A brief bike ride or drive away, there's Good Foods Market & Cafe,  a great co-op with plenty of fresh produce and vegan-friendly fare.
From Cheapside Park, you can take self-guided walking or biking tours of historical and architectural sites designated by Blue Grass Trust for Historic Preservation plaques. The maps are free from the visitors bureau, both downtown and online. The air downtown is fragrant with the scents of blossoms, fine old trees, and peanut butter that wafts from a factory northeast of town.
A free LEXARTS self-guided tour brochure lists several dozen galleries, museums, studios, businesses, and churches that display art, including Artists' Attic in Victorian Square—another grand example of preservation and adaptive reuse—and the Living Arts & Science Center, where I enjoyed the "Animal Facts, Fairy Tales, and Fictions" exhibit.
Free trolleys offer another easy way to get around, and Bluegrass Airport is just a few miles away and served by LexTran bus. If you like lodging in the countryside, I hear Snug Hollow Farm is a green, vegetarian-friendly choice on a beautiful organic farm, 50 miles from downtown Lexington.
Before visiting, check out the free information here and here and definitely don't miss the farmers' market while you're there!
All images ©Robin Tierney.