Help PETA in Three Minutes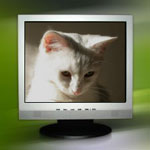 We just got word of an opportunity for PETA supporters to make a significant donation to help end animal abuse that takes just three minutes and doesn't cost a cent.
If you bought an LCD television, computer screen, or laptop between 1999 and 2006, you are owed money from a settlement because the manufacturers of those products were price fixing and overcharging customers.
We've made it easy for you to claim your refund and donate it directly to PETA! Please take a few minutes of your time and complete our simple online form to participate. Although your individual claim might be small, when it is combined with the claims of other donors, it will make a big difference in terms of helping to fight cruelty and save lives.
Won't you take a few moments online right now to help animals? This opportunity will expire on December 6, so please act now!