A Stitch in Time Saves Nine (Sheep!)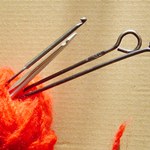 What do you get when you cross a love for animals with a love for knitting? Cruelty-free crafting, of course! By cruelty-free, I mean using other great materials besides wool.
It's not something you want to think about when you sit down to work on your latest knitting project, but unfortunately, sheep raised for wool are subjected to several cruel and painful procedures. They are often castrated and have their tails cut off—all without any painkillers—when they are only a few weeks old. Shearers are paid by volume, not by the hour, which means that they work roughly and fast, leaving animals with cuts and gashes. As PETA President Ingrid Newkirk points out in her book Making Kind Choices, "[S]heep are a business. They are not kept as beloved 'pets,' and it is not economically viable to treat them carefully for their aches and pains."
In Australia, where most wool used for clothing originates, farmers cut large chunks of skin and flesh from lambs' backsides—without giving them any painkillers—in a crude mutilation called mulesing. When sheep are no longer wanted by farmers, they are crammed onto multitiered, disease-ridden ships and sent away on long, frightening journeys to be slaughtered.
With all the amazing alternatives to wool available these days, it's easier than ever to enjoy knitting without hurting sheep. Instead of using wool, make the kind choice to use rayon, cotton, hemp, linen, bamboo, ingeo (from corn), and soy silk as well as synthetics like acrylic, nylon, and microfiber. Most of these materials can be found at craft stores or by following the links below—there's something perfect for every knitting (and crocheting) need!
Happy crafting!
Have a compassionate crafting tip? In the middle of a great new project and want to share? Your comments are welcome and encouraged.