Vegan Hotties Prove Age Is Just a Number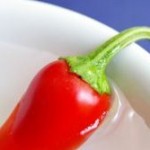 Have you seen Elton John's ex-bodyguard lately? He's 77—but most people would probably guess that he's in his 30s. He's that buff and spry-looking.
I hope my vegan diet does me that good at his age!
The man went vegetarian when he was 50 and vegan when he was 65. He lifts weights, too, of course, and he plans to stay ripped when he's in his 80s and 90s. While not everyone wants to look like a bodybuilder regardless of their age, most people want to be fit and trim well into their golden years. By exercising and eating wholesome vegan foods, you can practically "age-proof" your body. PETA's Sexiest Vegetarian Over 50 contest winners prove that you can look awesome at any age.
And check out 70-year-old Annette Larkins, who has eaten raw vegan foods, which she calls her "fountain of youth," for the past 27 years. She has the skin—and figure—of a college student. I mean, va-va-voom! Larkins not only looks half her age but also feels it. She claims that she is very vibrant, has lots of energy, and is always ready for activity. She wakes up at 5:30 every morning. Can you say the same thing? If not, it's never too late to improve your health.
You might remember the blog post about Eric O'Grey, who weighed 280 pounds and had a 50-inch waist when he was 51. He lost more than 100 pounds by eating vegan foods and exercising. He no longer has type 2 diabetes, high cholesterol, or high blood pressure, and at 53, he runs about 40 miles a week and competes in marathons. Pretty impressive, huh?
In fact, it seems like O'Grey is planning to follow in the footsteps of Fauja Singh, the oldest marathon runner in the world. Just three weeks after his 101st birthday, Singh ran the London Marathon in seven hours and 49 minutes. He attributes his success to eating simple vegetarian foods. Many plant-based foods, including berries, nuts, whole soy foods, spinach, avocados, and other fruits and vegetables, are rich in phytochemicals and other nutrients that help fight cancer, heart disease, diabetes, and other common chronic illnesses.
Even if you don't have any interest in running marathons, lifting weights, or simply turning heads, you'll still want to feel your best. And you can, just by eating nutritious vegan foods and getting regular physical activity. You're never too old to go vegan. If you haven't done so already, take our 30-day vegan pledge and see how good you can look and feel just by choosing healthy plant-based foods.