The (Dog) Housing Crisis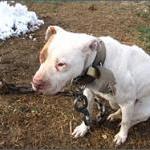 It's finally here: Election Day. As I head to the polls today, a lot will be on my mind and likely yours too: everything from the economy and the environment to civil rights and unemployment.
One particular housing crisis that may not make the nightly news has been an issue at the front of my mind lately. Every winter, backyard dogs who live with minimal shelter — if any at all — struggle to survive long days and nights outside in the freezing wind, snow, and sleet. Some die from exposure because they don't have basic shelter, but most bravely pull through, suffering terribly from the cold and damp conditions of winter.
I wish that this issue could be solved at the voting booths today. However, there is something very simple that each of us can do to help remedy the dog housing crisis: We can send sturdy, warm, and very special PETA doghouses filled with straw to these lonely animals this winter, helping them make it through the worst weather with a little bit of warmth and a place to curl up for years to come.
I am so thankful for the kindhearted people who step forward each winter to sponsor one of these doghouses through our PETA Angels for Animals program. Each "angel" helps ensure that one of these unlucky dogs is just a little less cold during another cold winter. Will you be able to join us this year and become the "angel" these neglected dogs need?
When other investments head south, this investment remains one that will pay dividends day after day for years to come. And the life of a dog will be changed forever.