Do You Deserve All That Your Dog or Cat Does for You?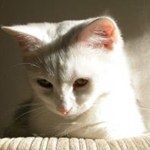 Comedian Bill Maher once said, "The reason I love my dog so much is because when I come home, he's the only one in the world who treats me like I'm the Beatles."
To the dogs and cats we share our lives with, we're superstars. They love us unconditionally and can enrich our lives in ways that humans simply cannot. We even reap health benefits just from their presence.
It's virtually impossible to be sad or lonely when a playful pup is wagging at you, ready for to play and have fun. And you can't help but smile when a cat is chasing a string or exploring the inside of a paper bag. Animals can melt our tension away just by being nearby. Nothing is more soothing to the spirit than when a cat gently nuzzles you, purring contentedly, or when a dog looks at you adoringly, eager for your attention.
Studies show that people with companion animals are less likely to suffer from stress, loneliness, depression, heart disease, and obesity. Just by walking your dog every day (as well you should), you'll be getting regular physical activity, which will help you stay in shape and blow off steam. Research even shows that walking with a dog boosts seniors' parasympathetic nervous system activity, which helps to calm and rest the body.
A study of hypertensive New York stockbrokers showed that those who spent time around animals had lower blood pressure than those who did not. Other studies also suggest that interacting with animals can help improve one's chances of survival [http://prime.peta.org/2012/09/retirement] after a heart attack.
Animals benefit us in so many ways, but are we as good to them as they are to us? Not usually. But we can help our animals live longer, happier lives by showing them the same love and affection that they show us, having them sterilized, and feeding them wholesome food.
Not only does having female dogs and cats spayed help prevent animal overpopulation and homelessness, it also eliminates the stress and discomfort of heat periods. And it eliminates their risk of uterine cancer and greatly reduces their chances of developing mammary cancer. Likewise, neutering male dogs and cats eliminates frustration, makes them much less likely to roam or fight, and helps prevent testicular cancer.
Be sure to take your best buddy for regular veterinary checkups and feed him or her well-planned meals twice a day. Many of the ailments that afflict companion animals can be traced to their poor-quality commercial pet food, which often contains ingredients unfit for consumption.
For more ways to "repay" your animal family members for all that they do for you, check out PETA's tips on caring for animal companions.