Does Eating Meat Age You?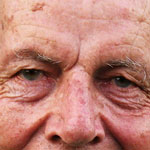 While it may not be news to some of you, eating healthy vegan foods is great for your appearance. Fresh fruits and vegetables, nuts, and other animal-friendly foods are packed with antioxidants and essential nutrients, such as vitamins C and E, which help neutralize skin-damaging free radicals and fight wrinkles and brown spots. Plus, the fiber in plant foods flushes out toxins, cranking up your healthy glow.
But is the opposite true as well? Can a diet heavy in meats and dairy products make you appear older than you actually are? New research suggests that the answer is yes.
Researchers at the University of Copenhagen in Denmark found that people who exhibit three to four troubling signs of aging—receding hairlines, baldness at the crown of the head, creases near the earlobes, or yellowish fatty deposits around the eyelids—are 57 percent more likely to have a heart attack and 39 percent more likely to suffer from heart disease. The risk of poor heart health increases with each additional sign of aging. Having yellowish eyelid bumps, which could indicate cholesterol buildup, carries the greatest risk.
So what does all this have to do with your diet? Few behaviors take such a severe toll on a person's heart as consuming meat, eggs, and dairy products, which are loaded with artery-clogging saturated fat and cholesterol. While eating animal products can lead to elevated cholesterol levels and heart attacks, studies have shown that a low-fat, meat-free diet can actually reverse the effects of heart disease in many patients. Vegetarians also have lower rates of cancer, diabetes, and obesity than their meat-eating counterparts do. In fact, PETA's 2010 Person of the Year, former President Bill Clinton—who underwent coronary bypass surgery in 2004—has shed more than 20 unwanted pounds on his heart-healthy, plant-based diet. In addition to taking years off your face, going meat-free could add years to your life: Vegetarians and vegans live, on average, six to 10 years longer than meat-eaters.
If bad health is staring you in the face, why not try a beauty regimen that could help you both inside and out? Going vegan for 30 days is a great way to protect your health, boost your energy, and ramp up your sex appeal—at any age. The tons of great recipes and healthy eating resources available online are sure to do you more good in the long run than a dozen trips to the cosmetics counter or plastic surgeon ever could!