Fighting the Big Four: Heart Disease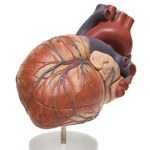 Four of the biggest health problems in America—heart disease, high blood pressure, diabetes, and cancer—are largely preventable. In many cases, they can even be reversed with simple lifestyle changes.
For the next few weeks, PETA Prime will be reviewing the latest health findings on all four of these problems, which touch millions of Americans each year. Today, we'll look at heart disease and the medical evidence showing how you can keep your ticker ticking long and strong just by exercising and eating healthy vegan foods.
Heart disease is the nation's top killer. It's usually caused when high cholesterol levels—anything above 150—promote atherosclerosis, the buildup of cholesterol and fat in the arteries around the heart. The human body manufactures all the cholesterol it needs, so each additional 100 milligrams of cholesterol you consume by eating meat, eggs, or dairy products—the only dietary sources of cholesterol—adds roughly five points to your cholesterol level. When enough cholesterol and fat clogs your coronary arteries—the ones that lead to your heart—your heart will lose some of its blood supply, and you'll have a heart attack.
But if you eat low-fat, cholesterol-free foods (i.e., vegan foods), you'll drastically reduce your risk of a heart attack. In fact, every time you reduce your cholesterol level by 1 percent, you reduce your risk of a heart attack by 2 percent. William Castelli, M.D., the director of the Framingham Heart Study, the longest-running clinical study in medical history, believes the heart disease epidemic would "disappear" if Americans simply adopted a plant-based diet.
Statistics suggest he's right, too: The average vegan in the United States has a cholesterol level of 133—77 points lower than the average meat-eating American—and there haven't been any reported heart attacks in people with cholesterol levels below 150. According to Dr. David Jenkins, a renowned nutrition scientist at the University of Toronto, "The evidence is pretty strong that vegans, who eat no animal products, have the best cardiovascular health profile and the lowest cholesterol levels."
Dr. Caldwell Esselstyn, the author of Prevent and Reverse Heart Disease and one of the physicians featured in the eye-opening documentary Forks Over Knives, agrees that vegans tend to have better health profiles. Dr. Esselstyn has even found that most of the diseases that he has treated, including heart disease and cancer, are virtually non-existent in parts of the world where people rarely consume animal-based foods.
If you, too, want to become virtually "heart-attack proof," eat vegan meals and get regular physical activity to keep your heart pumping and your midsection from sagging.