I Was Never a Protester Until…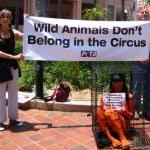 Among the ways I help animals by writing letters—lots of them. My letters are directed to the editors of newspapers and magazines, and they voice my opinion about articles regarding animal rights issues. I write letters for many reasons. One of those reasons is that I am somewhat shy and introverted, and being an "armchair activist" seems to suit that type of personality. But lately, I had been feeling that my writing is not enough for me. I want to do more: I want to stand up for animals in a new way.
IngridNewkirk once came to the city I live in for a book signing. In her speech, she said never to be embarrassed to stand up for your convictions about animal rights. She went on to say that you should never be afraid to intervene if an animal is being harmed or to speak your mind about issues that involve cruelty to animals and how to live more compassionately. We might be embarrassed for a few minutes, but it doesn't really hurt us. Just think about the animals who are being abused in vivisection laboratories or on factory farms. They spend their entire lives suffering … my stage fright was nothing compared to that!
Around that same time, I received an e-mail from PETA that said the organization's campaigners were coming to my hometown to hold a protest against Ringling Bros. and Barnum & Bailey Circus. Here was my chance to try something different to help animals!
I went to the protest and held up my sign. And guess what? It was neither embarrassing nor frightening. It was invigorating and even empowering! Standing alongside my animal rights peers, holding my sign, waving at cars, and talking to people who were walking by about why I was there is an effective way to educate people in my community who aren't aware of the abuse that animals endure. My husband came along and found out that he, too, felt great about being out on the streets standing up for animals.
The circus protest lasted one hour, and even if I had been embarrassed or frightened the whole time, it would have been nothing compared to the suffering that these animals experience day in and day out for their entire lives. Getting out there and protesting is an easy thing that I can do for animals. I will always write letters, because it's a great way to reach the masses. But I am also a public protester now.