Paper, Plastic, or Dog: Our Disposable Society Takes On a New Life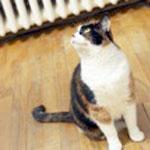 These days, you can't turn on the TV or look at a magazine without being "greened." We're guided to the best green car, the most savory green restaurant, or the most efficient green energy system. Emissions are examined, and thermostats are tightened-and our belts are not far behind. We compost, compact, and conserve, lest our carbon footprint inch a size larger, all for the sake of the environment.
We reuse items to the point of disintegration, and what we don't reuse, we recycle, carefully checking each category of plastic and glass. We seek water that is grey, build our homes with hay, and try to biodegrade in each and every way!
We've made great green progress. However, the disposable society we strive to deter has taken on a new life-a living, breathing life, or actually, lives. Trumping the dilemma of disposable products are the saddest recyclables of all: animals who have become victims of a national overpopulation epidemic.
Tens of thousands of puppies and kittens are born in the U.S. each day. Each year, 6 to 8 million animals are found on the streets or surrendered to animal shelters with only half, 3 to 4 million of them, "recycled" into new homes, which means that each year, 3 to 4 million animals must be euthanized for the lack of a good home.
Sadly, in our society, recycling trash seems to hold a place of greater importance than sparing animals homelessness, suffering, and needless deaths. It happens every day. The economy is frequently cited as animal companions are abandoned at veterinary offices or worse, left behind to starve in abandoned, foreclosed homes.
What does that say about us as a society?  Why is it that we do a better job at recycling used cans than we do these precious lives? Why won't our disposable society take on a new life?
I think we should be able to apply the same logic to animal companions. If these discarded sentient beings are lucky – they will be indeed "recycled." Why not consider a "green," recycled dog or cat as your next family member and adopt one of many perfectly good companion animals from an animal shelter as opposed to visiting a pet store or a breeder? If our society began to see these abandoned angels as "green," imagine this new and expanded definition of sustainable stewardship! A new, rich, and truly responsible shade of green.
Have you taken on a "new" life? Tell us about your "green" animal companion!