Nothing Passive About Neglect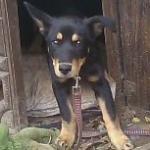 Those who advocate for animals have become accustomed to the buzzwords typically used to describe what animals endure—we hear words like "cruelty," "abuse," "abandonment," and "neglect." Interestingly, however, I've noticed that these words are typically phrased in a hierarchy, with "neglect" rarely garnering first mention.
Intrigued, I decided to query a few friends, asking them the following question: "On a scale of 1 to 10, with 10 being the highest, where would you rank the following words in terms of the worst offense to animals."
The result of my survey of 25 friends is as follows:
| | |
| --- | --- |
| Words | # Who Ranked First |
| Cruelty | 12 |
| Abuse | 5 |
| Abandonment | 4 |
| Neglect | 4 |
I was stunned. I thought of the hollow eyes of the animals who'd been abandoned in foreclosed homes, of those chained to stakes out of reach of water and shelter. How could "neglect" be ranked so far behind the word "cruelty"? So I went back to the same friends with one more question: "If you did so, why did you give the word "cruelty" such a significantly higher ranking than the word "neglect"? They shared their rationale. Some said that the word "neglect" didn't seem, "as bad," "as horrific," or "as destructive" as "cruelty"-or indicated that "neglect is more … passive."  That last comment caught me off guard. More passive? Wow. We need to shift that paradigm!
Listen carefully to the words used to describe the negative experiences of animals. If you hear someone indicate that neglect is not as bad as cruelty or abuse, take a moment to share with them that there is NOTHING passive about neglect. Neglect is as detrimental to the victim as any other type of cruelty or abuse.
Arguably worse, because neglect typically occurs over an extended period of time and, correspondingly, may well be a premeditated act. Neglect, passive? The animals who are its victims would likely beg to differ!
About half felt that the word "cruelty" was the most heinous, but the gap between "cruelty" and the next word, "abuse," was significant. The last two words, "abandonment" and "neglect," scored about the same as "abuse."