Keeping Your Dogs and Cats Safe on Halloween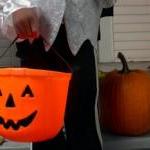 Halloween can be a fun time for children-and adults who like dressing up (I always think back to the "Thriller" video … I loved the Vincent Price rap!). Unfortunately, the frequent visitors in ghoulish costumes and the large amount of candy lying around our homes do present hazards for our animal companions.
Of all the calls to poison control centers related to food ingestion by dogs and cats, more than half are related to some form of chocolate. A recent poll of veterinarians asked the question "What are the most common toxin exposures in dogs in your practice?" Chocolate ingestion ranked second.
All chocolate contains caffeine and theobromine, which can be toxic. The danger to a dog depends on the amount ingested and the type. Unsweetened baking chocolate is the most toxic, and white chocolate is the least dangerous. Signs of illness related to chocolate ingestion can include anxiety, restlessness, vomiting, diarrhea, irregular heartbeats, tremors, and seizures.
Dogs seldom get into trouble by eating a single piece of candy. Instead, the problems arise when the guardian calls and proclaims, "My dog ate an entire chocolate cake" or "I left an entire bag of chocolate chips on the floor, and now they're all gone!"
There is no antidote for illness from chocolate toxicity. Most dogs feel anxious and restless. Guardians frequently report, "She just won't calm down." Though most dogs make full recoveries, hospital stays and supportive care cause them unnecessary fear and stress, can be costly, and make for an unexpected Halloween "surprise." As usual, prevention is the best solution.
The following are some simple steps to make sure that this Halloween is a safe one for your dogs and cats:
Take steps to ensure that your dogs and cats do not escape from your home. With frequent visitors, this can be a challenge. Be creative: Sometimes isolating them to a separate part of the house might be best. Make sure that they have plenty of toys!
Always keep chocolate out of the reach of your dog. Ensure that all cakes, bags of chocolate chips, fudge, and candy are kept at a height that your dog cannot reach. In the time that it takes you to receive a phone call, your dog could be eating an entire cake!
Instruct children that candy is not good for dogs. Make

real dog treats

available that the kids can feed to your animals.
If you believe that your dog has eaten a large amount of chocolate, take him or her to your veterinarian immediately, and bring the wrapper and any other identification if possible (the list of ingredients is most important). In most cases, vomiting will be induced to minimize exposure.
Also check out PETA's "Halloween Safety Tips for Animals."