Helping Kids Deal With Companion Animal Loss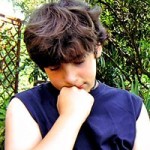 The loss of an animal companion is always a heartbreaking and heavy experience to go through. It's even tougher when we must watch our kids suffer through the loss of a beloved furry, finned, or feathered friend. It's not a pain that can be fixed like a scraped knee. Nothing can take away that sorrow, but there are a few things that can help make it a little better.
If the recently departed animal companion was the only animal in the household, it may help to arrange a visit with another animal companion your kids know. Or check with a local animal rescue group and offer your services as a foster family for an animal in need. This won't take away the pain and sorrow, of course, but being around another animal may help your children cope with the loneliness and redirect their attention.
If your children are old enough, suggest that they write a letter to their departed friend describing how much the animal meant to them and how sad they feel without him or her.
It is natural for children to be confused about why their animal companion died. Be sure to explain to your children (or have a vet or vet tech explain) that their friend is at peace now. Children are very good at accepting things that we don't think they would even understand. Don't underestimate their ability to understand how their friend died.
Give your children a pretty gift box, and ask them to pick a few photos, some toys, or the animal's collar or dish to place into the box as a memorial.
Have a small memorial or funeral service, if appropriate. Allow the children to speak and ask them to recite memories about the animal they loved or describe the animal's good qualities.
Create a free online memorial using photos and stories to honor and preserve the memory of their animal companion through PETA's True Friends Memorial. Then e-mail the link to family and friends, and ask for a gift in the animal's honor to help other animals in need.
Tell your friends not to avoid talking about the death of the animal—depending on the situation, of course. Your children may feel more comfortable speaking to someone outside the family.
And finally, if appropriate to the beliefs of your family, tell your children with confidence that they will see their animal companion again someday.
I offer the above as advice … but I know that different things work for different people. What about you? How was your experience when coping with companion loss? What helped you through that journey? How would you guide your children or grandchildren through that hardship?